About WhatToWatch.com
Who we are, where we've come from — and where we're going.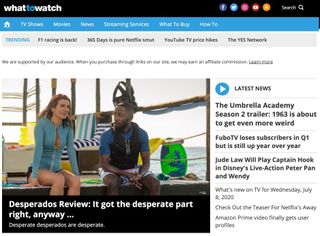 (Image credit: Future)
Watching television used to be simple. You turn on the TV, sit back, and watch one of a handful of channels at a time.
Now it's possible to have more than 100 channels in a single package. We have cable. Satellite. Streaming. TVs, phones, tablets and computers. Packages and pricing change all the time.
And then there's the matter of actually finding something good to watch.
We're here to help you with all of that. We'll help you know the best way to watch what you want to watch, from televisions to streaming sticks to the networking tools to make it all happen. We'll help you find the streaming service that's right for you.
And we'll help you sort through the latest shows and movies, because time is precious.
And we're going to have fun doing it.
So dive in head-first. We've got reviews and recaps. We've got industry news. And we've got so much more in store.
WhatToWatch.com is a member of the Independent Press Standards Organisation (which regulates the UK's magazine and newspaper industry). We abide by the Editors' Code of Practice and are committed to upholding the highest standards of journalism. If you think that we have not met those standards and want to make a complaint please contact us by calling 01225 442244 or writing to us at Future Publishing, Quay House, The Ambury, Bath, BA1 1UA, UK. If we are unable to resolve your complaint, or if you would like more information about IPSO or the Editors' Code, contact IPSO on 0300 123 2220 or visit www.ipso.co.uk.

Phil spent his 20s in the newsroom of the Pensacola (Fla.) News Journal, his 30s on the road for AndroidCentral.com and Mobile Nations, is the Dad part of Modern Dad, and is editor of WhatToWatch.com.
Get the latest updates, reviews and unmissable series to watch and more!
Thank you for signing up to Whattowatch. You will receive a verification email shortly.
There was a problem. Please refresh the page and try again.