Ahead of the Bake Off semi-final, hosts Mel and Sue talk tarts, tension and playing tricks...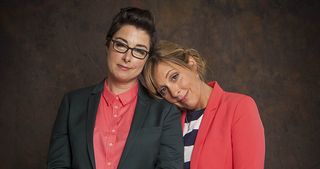 (Image credit: BBC/Love Productions)
As much as we love Bake Off (opens in new tab), our nerves are in tatters! In what's been the most competitive contest yet, for eight weeks we've watched the 12 brave souls who volunteered (yes, volunteered) to bake in front of the nation, be picked off, one by one, by judges Paul Hollywood and Mary Berry.
So might they be allowed a little breather? No chance. The dastardly judges have saved one of the hardest tests of their baking prowess until (almost) last: it's chocolate week. Let's hope for the bakers' sake it's not scorching in the tent. Here Mel Giedroyc and Sue Perkins talk TV Times (opens in new tab) through next Wednesday's mouthwatering semi-final…
Is chocolate week your favourite week, ladies?
Mel: "Oh, I think all of them are…"
Sue: "Any week there are leftovers is our favourite."
Mel: "I prefer savoury. I love pastry and pies... I adore a hot water crust."
Sue: "Bread week does it for me. But we'll eat anything as you've seen."
So you won't be plundering the chocolate tarts then?
Sue: "Oh course we will, we're still straight in! Hence why I'm twice the woman I was if you watch the first series."
Mel: "I was really good at being restrained until the fourth week, when I cracked on desserts. But a little bit of what you fancy does you good. And you've seen how good the contestants are this year. Who in their right mind wouldn't fall into their bakes?"
Good point. So who are you tipping to win?
Sue: "You know we can't answer that! We genuinely adore all the bakers left. They're a lovely, eccentric bunch."
Mel: "They have to be fairly eccentric to give up their summer to spend in a rainy tent!"
Sue: "By now they know each other and get on so well that Mel and I actually stand back a bit and let them chat more. Some of the funnier stuff comes when we're not in the way."
How do they cope with next week's chocolate challenges?
Mel: "The standard's amazing but, weirdly, even though they've watched five series beforehand, they do still make mistakes. The pressure is on – of course it is, it's the semi-final – so human error happens. Which is kind of a relief!"
Sue: "I really like how the challenges have been mixed up this year. Yes, there have been some European odd-bod recipes, but I've really enjoyed the nods to simpler, basic bakes that people can do at home. So just at the point you think it's going to escalate into another 27-tiered sculpture, Paul and Mary throw in something quite standard."
A well-risen soufflé is a beautiful thing but tricky to achieve. Does anyone crack under pressure or experience that sinking feeling?
Sue: "You'll have to wait and see! I still feel bad for last year's finalist, Richard Burr, who won Star Baker a record five times but did spectacularly badly at the end. He's an incredibly talented baker but, bless him, nerves got to him and he did three underwhelming bakes on the last show."
Mel: "The hardest thing about this week is telling the fourth person that they're not going to be in next week's final. It's the worst job after all the effort they've put in."
Have the glorious smells in the tent inspired you two to bake more?
Mel: "I made choux pastry for the first time. It's taken five years but I did it."
Sue: "What? You started it five years ago? Wasn't it rubbery? I bake during filming as I'm not very good at doing nothing - I like to be busy, so if I'm not doing the Royal Tour [the bit where Mary and Paul walk round judging the bakes] I'll go in the prep kitchen and make some brownies or pizza for the crew."
Mel: "They're like vultures. You've never seen people move so quickly when you hear the word, 'Cut'!"
How did your choux pastry turn out, Mel… would Mary be impressed?
Mel: "I have to say, I'm a little smug about it. I made 75 profiteroles, which I tried to fashion into a wizard's hat."
Sue: "A croqueembouche?"
Mel: "A croquembouche – thanks very much. I couldn't do caramel sauce, that went badly wrong – and it was Lent and I'd given up chocolate so I couldn't do chocolate. They were good though. I was pleased."
How has your relationship with Paul and Mary changed over the past five years?
Sue: "Paul and I have stopped sleeping together now – I bored him!"
Mel: "There was a bit of overlap, as Mel and I have enjoyed a 27-year relationship…it's all change!"
Sue: "Seriously we're all very close. Maybe some people think, 'It can't be that much fun, it can't be that nice and we can't all get on'– but the truth is we do. It is that much fun, it is that nice and we do all get on, and that's unequivocally the way it's always been."
It doesn't stop you playing tricks on Mr Hollywood though does it…
Sue: "Absolutely not. We'll always find something to annoy Paul. I might throw caution to the wind and take a baseball bat to his beloved car. We destroyed it once. I nicked the key off him when he was filming something about 14th century pancakes and drove his Aston Martin into a ditch. He was going to phone the police!"
Mel: "It was so funny… and then Mary defaced his car last year. They were at a book signing and as she left she decided to write, 'Love Mary' on his car – with an indelible marker pen! Poor Mary was there with a wet wipe trying desperately to remove it…"
Sue: "I used a chisel in the end to get it off. He had the most spectacular humour failure. Can't think why!"
The Great British Bake Off semi-final can be seen on Wednesday September 30 at 8pm on BBC1.
Get the latest updates, reviews and unmissable series to watch and more!
Thank you for signing up to Whattowatch. You will receive a verification email shortly.
There was a problem. Please refresh the page and try again.