Alan Halsall reveals what job he'd be doing if he wasn't in Coronation Street!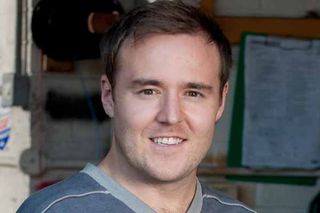 Coronation Street's Alan Halsall reveals how his life almost took a very different path...
Next week marks Alan Halsall's 20th anniversary of being in Coronation Street, but the actor has revealed that playing Weatherfield's Tyrone Dobbs wasn't always part of his life plan.
Despite the fact we couldn't think of anyone else playing the loveable cobbles mechanic, believe it or not, Alan very nearly chose a different role in acting all together.
At the same time he was offered the role of Tyrone, Yorkshire-based police drama, Heartbeat, were also desperate to sign him up.
Back in 1998, Alan had already appeared in several episodes of Heartbeat playing young crook Trevor Chivers. He impressed show producers so much that they wanted to make his role a more permanent one.
Little did they know, they had competition!
Alan recently told us about the enviable position he found himself in at just 16: "I had a decision to make, and you know which one I chose!
"But it was an easy one to make, I'm Salford born and bred, and my family all are up watching Corrie.
"Initially, it was a three month contract and I didn't think beyond that. I just wanted to enjoy my time there, and whatever happened, I could look back and say: 'I was in Coronation Street!'"
Like most Weatherfield residents, Tyrone has had his fair share of trauma over the years. Wife Molly cheated on him with Kevin Webster, and he was a victim of domestic violence at the hands of girlfriend Kirsty Soames.
The mechanic has since found happiness with Fiz Stape, but their romance has been a rocky one. In 2015, Ty left them penniless when he spent thousands on a "Winter Wonderland" for her then cancer-stricken daughter, Hope.
Meanwhile, the pair temporarily split earlier this year when Tyrone slept with Gemma Winter, and their relationship has been more recently tested by the arrival of his narky nana, Evelyn Plummer.
After twenty years of playing loveable Ty, Alan knows exactly why he's still a huge part of the soap...
"I think Tyrone's appeal is that a lot of people can relate to him. He's not the most educated man but he tries hard, works hard and wants the family life that he never had as a kid."
And, thankfully, it doesn't look like the actor is going anywhere any time soon, having just signed a new one year contract with the show...
"I'm very humbled to be a small part of this show, which is the biggest thing on television. If you're enjoying a job and you get so much from it, why change?"
Coronation Street airs on Mondays, Wednesdays and Fridays at 7.30pm and 8.30pm on ITV.
Picture credits: Tyrone then and now: ITV/Rex/Shutterstock, all others ITV
Get the latest updates, reviews and unmissable series to watch and more!
Thank you for signing up to Whattowatch. You will receive a verification email shortly.
There was a problem. Please refresh the page and try again.