Alfie Moon's back with THIS shock for Kat in tonight's EastEnders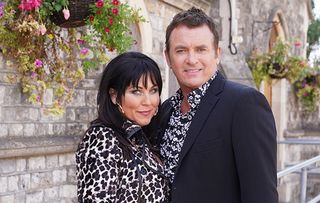 (Image credit: BBC / Kieron McCarron)
Alfie's back from Spain, but where are Kat's boys?
There's heartache for Kat Slater in tonight's hour-long EastEnders as Alfie Moon makes a dramatic return to Walford... but where are her beloved boys?
Kat's shocked when she gets a video call from Alfie, asking her for a huge favour. But while her estranged husband's request leaves her feeling unsettled, Kat's distracted when the social worker comes to visit Hayley and her baby.
Realising that Hayley needs her, Kat puts her own worries to one side and focuses on helping... but when Alfie keeps ringing Kat's phone, she is forced to cancel his calls and is left wondering what is so desperate that he needs to speak to her so urgently.
It's only when Kat calls him back that Alfie gives her directions to a hall. Kat follows his request and heads to his chosen location - but she's in for the shock of a lifetime when she arrives, only to find him waiting for her.
Kat's fuming that Alfie's back in London and he didn't tell her, but while she gets her head around seeing him for the first time in months, there's only one question she wants answered. Where are her kids?
However, Kat's hopes at seeing her boys are soon dashed when Alfie reveals that they're not with him and are still in Spain. But if he's not back with the kids, what exactly is he back for?
Alfie tries to explain everything to Kat, but while she struggles to understand, she comes to a huge decision. Will she listen to what her ex has to say, or will she walk out before he has a chance to finish?
With the secret that Alfie is Hayley's baby daddy still under wraps, how long will it be before the truth comes tumbling out?
Watch these scenes in tonight's hour-long EastEnders at 7.30pm.
EastEnders airs Monday and Friday at 8pm and Tuesday and Thursday at 7.30pm on BBC1.
Get the latest updates, reviews and unmissable series to watch and more!
Thank you for signing up to Whattowatch. You will receive a verification email shortly.
There was a problem. Please refresh the page and try again.