Anna Maxwell Martin: 'My kids hate watching me in Motherland!'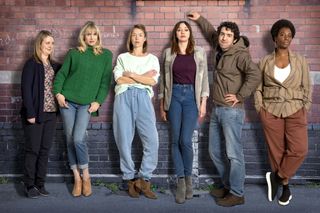 (Image credit: BBC/Merman/Colin Hutton)
Anna Maxwell Martin on her thrill at returning as 'selfish' mum Julia in the second run of BBC2's hit parenting comedy Motherland, which starts tonight at 10pm
Anna Maxwell Martin is back at the school gates for a second series of BBC2's parenting comedy Motherland. This time, Anna's character - harassed mum Julia - is once again negotiating childcare and playground politics but she is also facing a huge work dilemma.
Here, we asked Line of Duty star Anna Maxwell Martin what to expect in the new series of Motherland, which returns tonight on BBC2 at 10.00pm…
Where do we find Julia?
Anna Maxwell Martin: "Julia's still pretty frantic and is rushing about. She's got a conundrum about whether to carry on working but she's trying to do more school stuff this year so there's sports day and a Halloween event and the parents also have a big night out that gets messy. It always goes wrong!"
Do you enjoy playing her?
AMM: "I love her! She's utterly selfish and that's so much fun to play."
WHAT IS ON TONIGHT? Check out our NEW and Improved TV Guide
There's a new mum at school this time - confident, fun-loving Meg (Tanya Moodie) - how does she fit in?
AMM: "She is very together and a brilliant multitasker and everything Julia is not. Meg wants to have a good time and she makes the others have more fun. She wants to be with them on the losers' table at the coffee shop. The losers are getting cool!"
MORE: New Line of Duty star Anna Maxwell Martin: 'Patricia is a woman on a mission!' Watch out AC-12!
Do viewers tell you their lives are like Julia's?
AMM: "Some are scared I might be like her. Lots of people grab me and go, 'You're that crazy mum from Motherland!' But it does strike a chord. If you're doing the school run, you recognise those characters. The writers base everything on stuff that they know or have experienced although it's a heightened version. The parents behave like children. Julia is a terrible brat!"
How do your own children find watching Motherland?
AMM: "My kids hate it! They find it mega stressful because I'm just horrible in it. I'm not sure they like watching me in anything actually. They are very disloyal!"
What's next for you?
AMM: "A Sky One show Code 404 with Stephen Graham and Danny Mays, which is like a police spoof. I love working with [her Mother's Day and White Girl co-star] Danny and we have a right laugh. He and I only ever play husband and wife!"
Motherland returns on Monday 7 October at 10pm on BBC2
Get the latest updates, reviews and unmissable series to watch and more!
Thank you for signing up to Whattowatch. You will receive a verification email shortly.
There was a problem. Please refresh the page and try again.