Strictly's Anton Du Beke: 'It would have been NO dinner party if I was cooking!'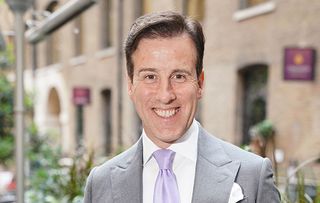 (Image credit: BBC/12 Yard Productions)
One of the most recognisable faces of Strictly Come Dancing, this week Anton Du Beke takes part in I'll Get This, BBC2's new dinner party game where the loser pays the bill. Anton reveals he loves a dinner party... just don't expect him to host!
Strictly Come Dancing favourite Anton Du Beke talks dinner parties and dancing…
Fans of Strictly Come Dancing are used to seeing Anton Du Beke whirling around the dancefloor on a Saturday night. For his latest TV outing, however, Anton gets to put away his dancing shows and enjoy a well-earned night out in BBC2's new comedy entertainment show I'll Get This.
The idea is simple: five celebrities go out for dinner together and, when they arrive at the restaurant, they must place their bank card in the centre of the table. As the food is served and the drinks flow, our famous faces play a series of fun and often revealing games. If they win a game, they get to retrieve their card. The person whose card remains at the end of the evening must pay the bill for the whole group!
Joining Anton in this week's first show are presenters Rylan Clark-Neal and Carol Vorderman, and comedians Ed Gamble and Ellie Taylor.
Here Anton, 52, talks dining out and who he reckons has got what it takes to go all the way on Strictly…
I'll Get This is really entertaining. What was it like to film?
Anton Du Beke: "Oh, it was great fun. I knew Rylan and I've known Carol for years, I didn't know Ed or Ellie but they knew each other. So it was just like we were five friends going out for dinner and having a lovely time. And people can play along at home. Families could all go out for dinner, all throw their bank cards in, play the various games and the loser picks up the bill. It's a brilliant game."
Can you tell us about some of the games you had to play?
Anton: "For the first game, we had to text someone random and the first person to get a reply featuring a certain word was the winner. I decided to text Carol… but she wasn't playing ball! The singing game was my favourite; I did quite well in that one. Then there was a game where we had to guess which one of us a Tweet was about. I'm sure Carol sends loads of brilliant Tweets, especially after a glass of vino!"
Were you pleased you didn't have to cook?
Anton: "Yes! I can assure you, it would have been NO dinner party if I was cooking! My idea of Come Dine With Me is let's all go out and have dinner! And I've had many a night where I've had to cough up for the bill, so it was lovely on this show knowing I might not have to pay."
So you're not one for hosting dinner parties, then?
Anton: "I don't really like people coming round to the house for dinner because they never go home! Get a glass of vino in them and they're up all night. You'll see me wandering around in my pyjamas, trying to get them to leave. I like to be able to go home at a certain time, so it's always safer to go to someone else's. Plus, I don't drink alcohol, so when people reach a certain level of merriment, I like to slip off."
Let's talk about Strictly… were you sad to have been eliminated so early in the competition with your celebrity partner Susannah Constantine (pictured)?
Anton:" "I was mortified, I couldn't believe it! Well, I suppose I can believe it because that's the way it goes, somebody has to be eliminated. But I felt really sorry for Susannah. She's a really interesting lady, who's lived an incredible life, so I would've loved people to have seen a bit more of her."
Which of the remaining celebs do you think can go all the way?
Anton:: "I think the competition's wide open this year. You've got Faye Tozer and Ashley Roberts, who are both really accomplished, so I think it'll be any two from the rest, really, to get into the final with them. I think the viewers have got a massive part to play in the show this year because it's so close."
Away from the dancefloor, you've just written your first novel, One Enchanted Evening. What's it about?
Anton:: "It's set in 1936 in a wonderful hotel in London with a beautiful ballroom. It's got intrigue, romance, a bit of Upstairs/Downstairs, and dark secrets that need to be revealed. It's all the people I've ever met and all the stories I've ever heard about. It's basically the story of my life."
Will you ever quit dancing to be a full-time novelist?
Anton: "Never! Dancing will always be my first love. When you dance with somebody incredible, to a wonderful piece of music, sung by an incredible singer you think: 'This is what we live for'. It's perfection!"
I'll Get This starts on Tuesday November 6 at 10pm on BBC2.
Get the latest updates, reviews and unmissable series to watch and more!
Thank you for signing up to Whattowatch. You will receive a verification email shortly.
There was a problem. Please refresh the page and try again.