Ashley accuses Laurel and Marlon of having an affair in Emmerdale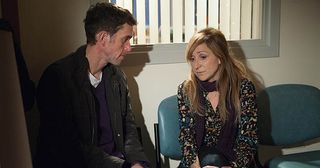 (Image credit: Andrew Boyce)
The confused vicar lashes out at his wife when he thinks she's cheating on him...
With Ashley's dementia getting worse by the day, Laurel is struggling to cope and things are about to take a serious downturn.
When Ashley sees Marlon comforting Laurel at the hospital, he's convinced the pair are having an affair and in the heat of the moment he angrily accuses his wife of being a cheat.
Laurel is beside herself and tries to explain to her confused husband, that he couldn't be more wrong, but as Ashley continues to berate her, it's all too much for the broken mum.
Diane intervenes and offers to give Laurel a break but when Diane gets distracted, Ashley decides to take off his bandages and starts walking out of the hospital without any one noticing.
Where's he going? And will anyone come to his help before he comes to harm?
A confused Ashley yells at Laurel and accuses her of having an affair with Marlon...
Earlier on when Laurel is at the end of her tether, her friend Marlon is on hand to support her.
Earlier on when Laurel is at the end of her tether, her friend Marlon is on hand to support her.
Marlon's shocked by Ashley's rapid deterioration and reaches out to try and comfort Laurel.
But when Ashley seems the pair together he's convinced there's something going on and yells at his wife that she's a cheat.
It's the final straw for an exhausted and broken Laurel. Diane steps in saying she'll keep an eye on Ashley but while her back is turned, Ashley wanders off and makes his way out of the hospital!
As he gets out onto the busy streets he's confused as to what he's doing and where he is.
In a special episode viewers will see everything from Ashley's perspective, giving an insight into how life can be for someone with advanced dementia.
Will anyone from the public notice that Ashley seems lost and confused?
Thankfully Ashley is found safe and sound but his disappearance was a wake-up call for Laurel. She now knows there's no way she can go on caring for her husband at home.
He needs special care 24 hours a day. Gabby's not pleased when Laurel breaks the news and accuses her of giving up on Ashley. What is Laurel going to do next? Is the heartbroken wife and mum ready to let someone else care for her beloved husband? Watch Emmerdale on ITV from Monday 19 December.
Get the latest updates, reviews and unmissable series to watch and more!
Thank you for signing up to Whattowatch. You will receive a verification email shortly.
There was a problem. Please refresh the page and try again.