Bafta rivals Sheridan Smith and Sarah Lancashire share the excitement of their big night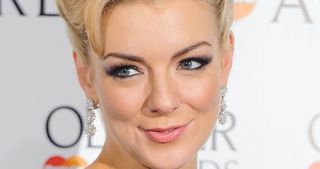 Two of Britain's most popular actors Sarah Lancashire and Sheridan Smith talk to TV Times about being nominated for Sunday's BAFTAs and what acting means to them...
SARAH LANCASHIRE
How do you credit for your success?
"It's a little golden patch. I'm just in a situation where I'm in the right fold at the moment. You do get used to the way people work and write. But it's not really about me; it's more about them. For whatever reason, Happy Valley resonated, people clearly like that genre of drama. I don't think any of us could have anticipated the response.
"You'll say to me at interviews: 'Why did you take this part?' and I'll reply: 'Because it was beautifully written'. But, as we all know, that doesn't necessarily mean it's going to resonate with an audience. Some of the greatest pieces of work are struggling to get two million viewers."
What do you think of your character, Catherine Cawood?
"Catherine isn't a maverick. She's a well-respected officer with a very strong need to do good. But as the series started to get darker, she couldn't do anything by the book. By the end of the third episode, the temperature of the piece changed dramatically and it became about Catherine's need for justice for her dead daughter."
Is it difficult working on Happy Valley?
"Happy Valley is toughest job I've ever done. The schedule was brutal, not for the faint-hearted. We did 14-hour days and then you'd go home to do another three hours of preparation. You have to prep because they were dense scripts."
Have you got favourite characters you've played?
"It's not a case of having A favourite character, it doesn't work like that. I think your favourite is always the one you're currently playing because you're so consumed by it."
Most actors don't like watching themselves on screen, do you?
"It doesn't work like that. I go away every day knowing I made wrong choices, but you learn to let it go. I always read reviews, though, because it's a great barometer on how things are being received."
Are you exacting about what you do?
"I am picky about what I do, but as a writer's daughter I'm bound to be – you can't get rid of that side of you, unfortunately!"
How pleased were you to win Best Supporting Actress at last year's BAFTAs?
"What a lovely thing, to have your work recognised by your peers, but it was a big shock and wasn't expected. I don't promenade down the red carpet… I run down it very quickly! Award ceremonies are like the office party, to be honest, because when you're in the doors, you're there with a lot of friends."
SHERIDAN SMITH
How did you enjoy playing Cilla?
"Cilla was a joy because there's only one Cilla and she has such a distinctive voice. I've grown up watching her so I was in awe of her and I became obsessed with her. When we met I got in a state and babbled on, but she was really supportive and a lovely warm person. I just wanted to do her justice."
Were you scared of taking on the part of someone so famous?
"It was terrifying taking on someone who is so well known. The great thing is that it was about a time that a lot of people don't know about, certainly my generation. I was excited to show that she had the singing career that she did. I know I don't have Cilla's voice, but hopefully I got some bits of her. It's the closest I will ever get to being a popstar!"
Do you always get nervous when you start a new job?
"I have self-doubt and get so nervous that every job is going to be my last one, I touch wood, every time. I do feel very lucky that I'm getting to play such different characters, that people take risks on me and give me these roles that I think are out of my comfort zone."
Do you try and challenge yourself?
"It's always good to challenge yourself but the process is terrifying. Hiding behind characters and transforming into someone else is where I'm at home though. I used to sing with my mum and dad and he used to up the key every time to stretch my voice. I used to look at him thinking, 'Dad! It's getting a bit high here!' But when I told him I was doing Cilla, he said, 'See! It did you good stretching your voice!'"
Do you enjoy being so busy?
"I never want to stop. I want to take these roles while they are there. My gorgeous mum and dad are grafters, and they instilled that in me. They're a country & western duo and they've got that work ethic because they used to work seven nights a week."
The BAFTA TV Awards screen on BBC1 on Sunday
Get the latest updates, reviews and unmissable series to watch and more!
Thank you for signing up to Whattowatch. You will receive a verification email shortly.
There was a problem. Please refresh the page and try again.