Bake Off finalist Richard Burr: 'My cookbook is all those tatty bits of paper, all my favourite recipes'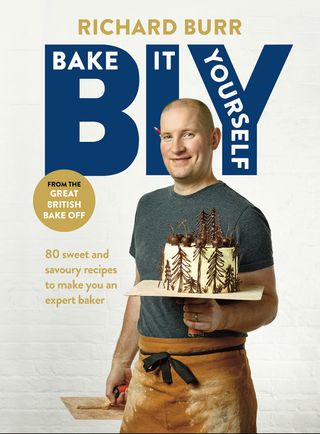 After the 'doughverload' of stress in the tent last week, the bakers are hoping the judges will go sweet on them when they tackle the next challenge - desserts.
We chat to Richard Burr, who's magnificent puds earned him Star Baker this time last year. Here, everyone's favourite builder-turned-baker (who was pipped to the winning post by Nancy Birtwhistle) tells us about his debut cookbook and 'crazy' life since appearing on the Great British Bake Off (BBC1, Wednesday)…
Are you watching this year's Bake Off?
"Of course - I don't know if I'm excited for the contestants or a little bit jealous! I loved being in that tent. I see this lot as new mates - we're all in the Bake Off gang."
What's life been like post-Bake Off?
"A whirlwind, it's totally changed. If I'd just gone back to my family and job on a building site afterwards, that would've been great as I'd had a brilliant experience. But now I do baking demonstrations, I've just been on Pointless with Frances Quinn [who won Bake Off in 2013], and I've written a cookbook that's out this week."
What's in your new cookbook, BIY - Bake It Yourself?
"I've baked ever since I built my own kitchen to cover in flour without my mum getting upset at the mess. This book is all those tatty bits of paper we all have, all my favourite recipes - with some I've nicked from my mum! So there are Chilli Con Carne pasties, Cherry and Almond Swiss Roll, doughnuts, of course – my rhubarb and custard doughnuts being my favourite bake on last year's show. Being a builder I am 10 per cent doughnut!"
Will you stay a builder or chuck it all in to bake?
"I'm a fourth-generation builder who has somehow managed to juggle it all in the past crazy year. I've got a lot to thank my dad for who's been patient and kept our building business going while I've been head-down in the kitchen. I still feel like a builder who really loves baking, rather than the other way round. I want to keep doing both. I love living two lives."
Have you still got your trademark pencil behind your ear?
"I literally have, as I talk to you, TV Times, while making macarons from my book! There isn't one special pencil – I have so many it's ridiculous. Builders never put pencils down else someone nicks them."
Any advice for this year's bakers during dessert week?
"Take a deep breath, keep your head and don't let the occasion get on top of you. Beware the eyebrow of death popping up on Paul! I thought I'd be kicked out by week three or four so hadn't practised to go any further. I was winging it a bit from puds week."
You still won Star Baker a record five times. Are you worried about losing that crown?
"I am! I'll happily sit on my record for as long as Bake Off lasts!"
Get the latest updates, reviews and unmissable series to watch and more!
Thank you for signing up to Whattowatch. You will receive a verification email shortly.
There was a problem. Please refresh the page and try again.