BBC sports presenter becomes impromptu birthing partner to business presenter!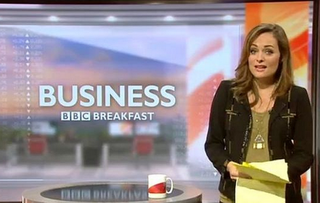 BBC Breakfast presenters Victoria Fritz and Sally Nugent became more closely acquainted on Wednesday when the latter helped the former give birth!
A BBC presenter gave birth after reading the business news on Wednesday... with the help of another newsreader as her birthing partner!
Victoria Fritz, who presents the business news on BBC Breakfast, found her waters breaking on Tuesday after leaving the studio.
When fellow presenter Sally Nugent discovered that Victoria's husband was stuck on the motorway, she said she would stay with her at the hospital until he arrived.
But because of heavy traffic on the M6, Victoria's husband did not get there in time, and Sally ended up being birthing partner for the arrival of a baby boy.
A BBC spokeswoman said: "When Sally heard that she'd gone into labour she offered to be there until Victoria's husband got there. But her husband never arrived so she found herself at the birth."
The baby had been due to arrive in early December.
Victoria tweeted: "My heartfelt thanks to Sally Nugent and St Mary's doctors and midwives who helped me deliver my little boy yesterday. A @BBCBreakfast team effort!"
Sally wrote: "You won't believe what happened after work yesterday. Huge congrats to our very clever @VFritzNews."
BBC Breakfast presenter Dan Walker wrote: "Thank you for all your suggestions for baby names for @VFritzNews but I think Baby McBabyFace might not make the grade @BBCBreakfast."
BBC Breakfast tweeted: "Congratulations @VFritzNews! Victoria should have been our biz presenter today – but instead has some more exciting news to deliver!"
Get the latest updates, reviews and unmissable series to watch and more!
Thank you for signing up to Whattowatch. You will receive a verification email shortly.
There was a problem. Please refresh the page and try again.