Beyond Paradise fans thrilled by Death In Paradise 'Easter egg'!
Beyond Paradise viewers loved the mention of a classic Death In Paradise character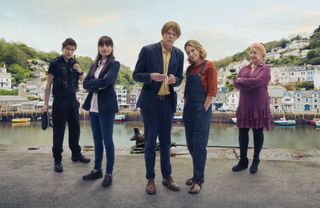 (Image credit: BBC)
Beyond Paradise fans were thrilled in last night's episode when there was a nod to Humphrey's past role in Saint Marie!
DI Humphrey Goodman was, of course, once employed on the sun-soaked island that features in Death In Paradise.
And now he and fiancee Martha Lloyd have moved to Devon to start a new life.
So far things have been, well, up and down.
In the very first episode, Martha miscarried the couple's longed-for baby.
And in the second, she teamed up with her rather handsome ex, Archie, to launch her new business.
While in last night's show, Archie and Humphrey went for a pretty awkward beer together.
But as far as police work goes, Humphrey's unconventional approach is winning!
In last night's episode, he cracked the case of a valuable painting that had gone missing from a locked room, guarded by PC Kelby Hartford.
But while viewers are loving the way the crimes are solved with the police officers being shown in flashbacks to the action, it was something else that really got everyone talking.
A duck.
In episode one, Humphrey bought a boat for him and Martha to live on that came with its own resident duck.
And in last night's show, Humphrey gave their new boatmate a name.
Selwyn.
Death In Paradise fans will know that Selwyn is the name of the commissioner on Saint Marie, head of the Royal Saint Marie Police Force and Humphrey's former boss.
Viewers loved the little callback to Humphrey's former life!
Though some wondered if Selwyn would get to hear about his namesake and how he'd feel about it!
In Death In Paradise the police officers have had the companionship of Harry the Lizard - an extremely realistic CGI reptile - since way back in series one.
And Beyond Paradise fans are pleased Humphrey's got a new animal friend!
But though Humphrey and Martha seemed happy at the end of the episode, with Martha having decided to try IVF again, there could be trouble ahead.
Archie asked Humphrey in a very pointed way if he was worried about Martha and him working together.
Does Archie still have feelings for his ex?
Beyond Paradise isn't on next Friday as it is Comic Relief, but it returns on Friday, March 24 at 8pm on BBC One. See our TV Guide for more information.
Get the What to Watch Newsletter
The latest updates, reviews and unmissable series to watch and more!
Kerry is a writer, author and editor with a lifelong love of the soaps, a passion for TV drama of all kinds, and an obsessive devotion to Strictly Come Dancing.
She was features editor of All About Soap magazine for more than a decade, covering every bit of excitement from all the UK soaps and the Aussies and still writes about all the juiciest gossip from the Street, the Square and the Dales whenever she can.
Kerry's also an author of historical fiction, and her two jobs collided when she got the chance to write two novels based on Emmerdale, and the Sugden, Tate and Dingle families, during WW2.