'Birmingham Children's Hospital has given us back our son... not just once but twice!'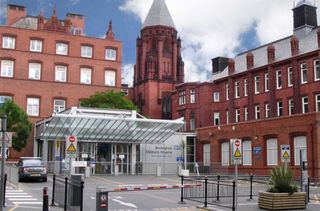 Rachel Tobey, 45, from Hereford, tells TV Times about her extraordinary son Charlie, 15, and husband Chris, 53, and the unique bond they share – as featured in new C4 series, The Children's Hospital.
When were you aware that Charlie had problems with his liver?
"Charlie had his first liver transplant when he was just 14 days old. But within a couple of weeks he had a completely normal life. As Charlie grew up he wasn't excluded from anything and was allowed to partake in contact sport, swimming, cricket, rugby – he was a very normal, competitive boy."
But in 2009 all that changed when Charlie began to reject the liver, which was when your husband Chris stepped in to help out his boy, wasn't it?
"It was an absolute no-brainer as far as we were concerned. He didn't need to think about it, in his mind all he thought was, 'If I can do something for Charlie, then I will'."
On 20 May 2015, both your son and your husband both had major surgery, in different hospitals, that must have been a very tough day to get through…
"I didn't stop to think about the consequences if it didn't go according to plan to be honest. I had my two best friends with me and family close by and without them I couldn't have found the strength to do it."
A few days after the surgery however it became clear that, while Chris was recovering well, Charlie wasn't. How did you handle that?
"The most difficult bit of all was I couldn't be really honest with Chris about Charlie's condition. He was asking how he was and I was saying, 'Oh he is fantastic', when in fact he was very poorly. That went on for about 10 days and then I slowly fed Chris reality in dribs and drabs so he was as prepared as he could be for seeing Charlie."
After a tortuous two-month wait with Charlie growing ever sicker in intensive care, in the July he received another liver, and this time the operation was a success…
"We were off intensive care in 24 hours; it was remarkable. We left hospital at the end of July and Charlie was back at school for the first day of the new term in September."
Has the experience changed you as a family?
"I try not to let it on a day-to-day basis – I am still the nagging mum and wife! But deep down I am so completely in awe of Charlie. His bravery, courage and determination have been extraordinary.
"Day after day he never gave up, he just battled on and I knew some times that was really hard. Every single night I wanted to take his pain away, but you can't and fortunately he found the strength to get through it himself."
"Birmingham Children's Hospital has given us back our son, not just once but twice. It's a fantastic place and to be part of this series, which highlights what tremendous work is done there, is an absolute privilege."
Get the What to Watch Newsletter
The latest updates, reviews and unmissable series to watch and more!