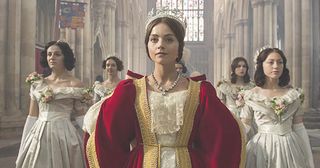 After we chose the top 10 Historical TV Hunks (see below) it was only a matter of time until we did the same for the Crown Princesses of Costume Drama. And here they are...
Jenna Coleman – Victoria
Former Doctor Who companion Jenna Coleman is due to return to our screens soon in ITV's Queen Victoria, but this beauty bears scant resemblence to the scowling Queen Vic of history (and we're not complaining!) Victoria (Jenna) is portrayed advancing from teenhood to Queenhood, with not a Dalek in sight!
Billie Piper – Mansfield Park
Perhaps there really is something in this time-space continuum because another ex Doctor Who companion, Billie, was tranported back to the 18th Century in 2007 and starred as the iconic Jane Austen character Fanny Price.
Heida Reed – Poldark
Icelandic model turned actor Heida was an exquisite Elizabeth, the first object of Ross Poldark's affections, in the BBC1 reboot of Poldark. Word has it that she and Poldark will reunite in the upcoming series – and who could blame the man!?
Claire Foy – Upstairs Downstairs
Claire is about to star as Queen Elizabeth II in the upcoming Netflix epic, The Crown, and she has a regal on-screen pedigree that's perfect for the part. Anne Boleyn in Wolf Hall, Lady Persephone Towyn in Upstairs Downstairs, Anny Dorritt in Little Dorritt... she's featured more period costumes than the V&A Museum!
Romola Garai – Emma
Romola won a Golden Globe for her performance as the title character in BBC1's four-part adaptation of the Jane Austen novel; her character was like a one-woman forerunner of Match.com. From Vanity Fair to Atonement and Daniel Deronda, there's something about Romola's presence that just screams 'You're history, baby!'
Lily James – War & Peace
Lily had already redefined costume drama beauty as Lady Rose in Downton Abbey, and as spirited teen Natasha in War & Peace, she was desperate to find love while all around her in Russia was chaos. Brooding Prince Andrei seemed to be a perfect match for her, but the path of love never runs smooth...
Jessica Brown Findlay – Jamaica Inn
She died suddenly as Lady Sybil in Downton Abbey, but Jessica illuminates the screen in any of her historical roles (even when you can't hear her, like the BBC's mumbling Jamaica Inn). She's the very picture of a tortured period beauty.
Carey Mulligan – Northanger Abbey
Scheming and mischievous, Carey brought a sly charm to her Isabella Thorpe in ITV's 2007 adaptation of Jane Austen's Northanger Abbey. Did she ever find the financially suitable man of her dreams? There's not a man in the land who'd refuse her hand!
Tuppence Middleton – War and Peace
Confusing everyone (well us, at least) by appearing in War & Peace AND Dickensian in the past 12 months, Tuppence played wildly different sides of the historical penny. As Charles Dickens' tragic Miss Havisham she embodied honour, romantic love and naivety, but as Tolstoy's Helene Kuragina she was a power-crazed, incestuous sex-obsessive. What range!
Gillian Anderson – Bleak House
Somewhere, out there, The X-Files star Gillian decided a turn or two in period costume was required. She chose Charles Dickens as her mentor and appeared as Lady Dedlock in BBC1's Bleak House before playing the doomed Miss Havisham in Great Expectations. Lady Dedlock was a woman with a past, a very mysterious past...
Read about 10 HISTORICAL TV HUNKS here.
Victoria will premiere on ITV in late August
Get the latest updates, reviews and unmissable series to watch and more!
Thank you for signing up to Whattowatch. You will receive a verification email shortly.
There was a problem. Please refresh the page and try again.