10 Years Ago in the Soaps: Week Beginning August 12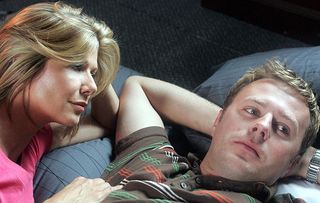 Remind yourself of all the soap drama that was happening in Corrie, Emmerdale, EastEnders and Hollyoaks 10 years ago this week!
Even though Carl King (Tom Lister) had warned DCI Grace Barraclough (Glynis Barber) not to fall for him, he couldn't stay away from her. And she couldn't keep her hands off him. Carl knew he was bad news; he had killed his father, Tom. Detective Grace hadn't yet worked that out, though. She asked Carl outright whodunit but he wouldn't tell her. Then her boss found out about their affair and told her to choose between Carl and her job. So Carl was dumped. Drunk and liable to talk too much, Carl was bundled into one of the King family's haulage trucks bound for Europe by his brothers, Jimmy and Matthew, and sent overseas. But he wouldn't be gone for long…
Oh, dear… There was Jimmy King (Nick Miles), all oiled up for a massage when, instead, he walked in on his fiancée Kelly Windsor (Adele Silva) getting a tongue-lashing from Carrie Nicholls (Linda Lusardi). Carrie had discovered that her schoolgirl daughter, Scarlett, had accompanied Kelly to an abortion clinic. Kelly had terminated her pregnancy to save her modelling career. But that was also terminated. Kelly begged Carrie not to tell Jimmy about the abortion and she didn't. But Jimmy would find out eventually…
Coronation Street
Steve McDonald (Simon Gregson) was desperate to keep his near-sexual holiday adventure with transvestite Shania a secret, especially from Michelle Connor (Kym Marsh) who was (at that time) the woman of his dreams. But his best mate, joker Lloyd Mullaney (Craig Charles), had a photo of Steve kissing Shania and Michelle saw it… And she humiliated Steve by showing it to everyone in the Rovers. They did kiss and make up, though.
Ashley Peacock's (Steven Arnold) friends had clocked the constant presence of crazy Casey Carswell (Zoe Henry) at No4 Coronation Street and were getting worried for him. Kevin Webster (Michael Le Vell) bobbed round to ask Ashley to go for a drink and was shocked to see Casey in a dressing-gown. But Ashley angrily told Kevin to mind his own business. And when Audrey Roberts tried to talk some sense into Ashley, Casey went to see her and lied that Ashley's wife Claire knew they were having an affair and that she was Ashley's family now.
EastEnders
Awkward! This time 10 years ago, Stacey Branning (as she was then) was having an affair with her father-in-law Max Branning (Jake Wood), whose wife, Tanya (Jo Joyner), was pregnant. Tanya had a health scare and it was Stacey (Lacey Turner) who went to hospital with her. By the time Max got to Tanya's bedside, she and Stacey had bonded over the experience – which made it all that much harder for Stacey to sit and watch Max and Tanya together.
Ten years ago, Max Branning had no thought of destroying Ian Beale (Adam Woodyatt) and hadn't looked twice at his daughter, Lucy. At that time, Ian was horrified to discover that his 13-year-old daughter was secretly dating 18-year-old Craig Dixon (Rory Jennings) and was desperate to stop them. Max drove Ian to Craig's house and they burst in to find Craig half-naked and Lucy in his bed. Max warned Craig to stay away, while Ian got Lucy out of the flat and reported Craig to the police. But that didn't stop him…
Tony Hutchinson (Nick Pickard) had to grieve in secret when Jacqui McQueen miscarried his baby, because Jacqui had married Albanian immigrant Aleksander Malota (Jon Lolis) so he could stay in the country. But it was all too much for Tony after he discovered Jacqui would never be able to have children and then saw Aleks getting all the sympathy because people thought he was the father of the baby she had lost. Tony was outraged and attacked Aleks, then announced to everyone that the baby had been his, not Aleks'.
John Paul McQueen (James Sutton) found heartbroken Carmel McQueen (Gemma Merna) all packed and ready to leave Hollyoaks after her secret lover, Aleksander, had been forced to leave by Tony. Her plan was to try to find Aleks but John Paul convinced her to stay in the village.
John Paul had less luck with his own secret lover, Craig, who didn't want anyone to know about his gay relationship with John Paul.
Get the latest updates, reviews and unmissable series to watch and more!
Thank you for signing up to Whattowatch. You will receive a verification email shortly.
There was a problem. Please refresh the page and try again.