10 Years Ago in the Soaps - Week Beginning December 30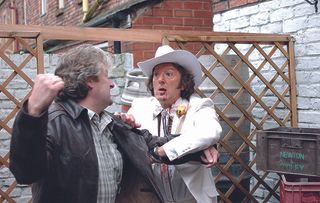 10 Years Ago in the Soaps - Remind yourself of all the soap drama that was happening in EastEnders, Corrie, Emmerdale and Hollyoaks 10 years ago this week!
Liz McDonald (Beverley Callard) tied the knot with Vernon Tomlin in Corrie, Kevin Wicks (Phil Daniels) crashed out in EastEnders, there was an unholy graveside fight in Emmerdale and Nancy Dean (Jessica Fox) was in big trouble in Hollyoaks - 10 Years Ago in the Soaps
Coronation Street - 10 Years Ago in the Soaps
Liz McDonald was having pre-wedding nerves… so bad that she asked Deirdre Barlow (Anne Kirkbride) to tell the guests the New Year's Eve ceremony was off. But that was before her jealous ex Jim (Charles Lawson) got into a fight with the bridegroom Vernon Tomlin (Ian Reddington) at The Rovers, shouting that Vernon didn't deserve Liz. If Jim was hoping to stop the wedding, his temper had the opposite effect. Liz decided she wanted someone who would truly love and respect her, and that was Vernon… so Deirdre herded the guests back into the registry office and Liz tied the knot with Vernon. Aah!
Sarah (Tina O'Brien) and Jason Grimshaw (Ryan Thomas) and little Bethany were all set to head off for their new life in Italy but there was something bothering Jason. Sarah's brother David was still swearing that Sarah had set him up, planting drugs on him and costing him the chance of the Italy job. At the station, Jason asked Sarah if it was true and when Sarah admitted it was, he said she wasn't the girl he fell in love with and they couldn't possibly go to Italy now. But Sarah said she was going with or without him - and the upshot was, she went without him!
EastEnders - 10 Years Ago in the Soaps
It was the end of 2007 and the end of the road for Kevin Wicks who died in a horrific accident on New Year's Eve 10 years ago in EastEnders. Ironically it was hated ex-wife Shirley who held him in her arms as he passed away after they tried to get rid of the cut-and-shut job car Kevin had unwittingly sold to Yolande. They crashed in a car park and at first they thought they had got away with it… until Shirley saw Kevin had been speared by a scaffolding pole. She dialled 999 and called an ambulance as Kevin begged her not to leave him - then gave her a long kiss, saying it was for his current wife and true love, Denise. Then he breathed his last…
As if it wasn't bad enough finding herself a single parent again in the wake of husband Max's treachery, Tanya Branning's New Year went from bad to worse when the police called to say her salon had been broken into and vandalised. So much for her planned pyjama day in front of a DVD with her girls, Abi and Lauren! But it wasn't all grim… Stacey Branning's sexy brother Sean Slater (Rob Kazinsky) put a smile on her face, fixing the salon - and spending the night with her.
Emmerdale - 10 Years Ago in the Soaps
The King brothers were horrified to discover the devious but now dead Rosemary King was to be buried next to their dad Tom in the Emmerdale graveyard. The family solicitor confirmed it was Tom's wish and Jimmy and Carl resigned themselves to the fact - but Matthew, who had been framed by Rosemary's son Gray for her murder, was furious. Gray's wife Perdy was in love with Matthew but she was torn between the two men as they brawled in the mud. Matthew had the last laugh, though, by having Rosemary's previously buried coffin crushed by one of his company's refuse wagons. What a rubbish way to end!
Long before Ross Barton showed up in Emmerdale, there was another Ross wowing the Emmerdale women in the shape of Paddy's police officer cousin Ross Kirk (Samuel Anderson). But he made the mistake of two-timing fiery Lexi Nicolls (Sally Oliver) and equally feisty Chas Dingle (Lucy Pargeter). Lexi gatecrashed Chas's date with Ross and the girls got into a fight which landed them both in a police cell for the night. But later they realised it was Ross who was at fault and got their revenge, seducing him up to bed then handcuffing him to it!
Hollyoaks - 10 Years Ago in the Soaps
Jake Dean (Kevin Sacre) planned a romantic New Year's Eve for him and fiancée Nancy Hayton (Jessica Fox) but Nancy had other ideas. She wanted to let her hair down with her mates and got so drunk she ended up being sick in the river, much to Jake's disgust. Jealous and controlling, he was furious when the young teacher refused to stop her extra tuition sessions with pupil Newt. So he alleged that Nancy was having a sexual relationship with Newt and got her arrested. And, at her lowest ebb, Nancy promised Jake she would do whatever he said…
Samantha Giles, now much-loved as Emmerdale's Bernice Thomas, played Leo Valentine's mistress Val Holden 10 years ago. She turned up with her two illegitimate children Danny and Lauren, by Leo, and moved in with the Valentines. A girl who liked a good time, she took Sasha Valentine (Nathalie Emmanuel) out for a night on the town but clashed with Katy Fox and it descended into a drunken brawl. At this point Sasha's big brother cop Calvin Valentine (Ricky Whittle) decided it was time to teach Val and Sasha a lesson and marched them off to spend a night in the cells…
Get the latest updates, reviews and unmissable series to watch and more!
Thank you for signing up to Whattowatch. You will receive a verification email shortly.
There was a problem. Please refresh the page and try again.