10 Years Ago in the Soaps including EastEnders - Week Beginning March 17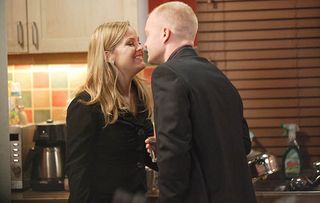 (Image credit: BBC)
10 Years Ago in the Soaps - Remind yourself of the soap drama happening in EastEnders, Coronation Street, Emmerdale and Hollyoaks 10 years ago this week!
Tanya Branning (Joy Joyner) plotted murder in EastEnders, Carla Connor (Alison King) got a proposal in Coronation Street, Nicola De Souza (Nicola Wheeler) also had murder on her mind in Emmerdale, and Nancy Dean (Jessica Fox) slept with Justin Burton (Chris Fountain)  in Hollyoaks - 10 Years Ago in the Soaps
EastEnders
Getting one over cheating husband Max Branning (Jake Wood) wasn't going quite the way Tanya planned. She even slept with him to get him to sign over his worldly goods to her but the wily devil wasn't easily beaten. Her lover Sean Slater (Rob Kazinsky) was fed up with hanging around so packed his bags and told Tanya he was off to Spain. Tanya, though, needed him to help with her new plan -  she decided the only way to be rid of Max was to kill him… and, in dramatic scenes, she and Sean buried Max alive! Sadly the plot was kept secret until screening, so no pictures were released…
Going out and leaving daughter Lucy Beale with the run of the house was a huge mistake as Ian (Adam Woodyatt) and Jane Beale (Laurie Brett) discovered to their cost. A phone call from the police cut short their romantic night away and they got home to discover the house had been trashed when Lucy threw a party that got way out of control. Ian was so furious, he slapped Lucy round the face. A mistake he lived to regret…
Coronation Street
Carla Connor thought Tony Gordon (Gray O'Brien) had gone cold on her, but it was quite the opposite. He summoned newlyweds Liam (Rob James-Collier) and Maria Connor, Michelle Connor and Steve McDonald round to his flat for dinner then stunned them all by producing a huge diamond ring and asking Carla to marry him! Carla said 'yes' but as everyone toasted the happy couple, she and Liam exchanged a glance. They clearly still fancied each other…
Having left his mum Gail to die after she fell down the stairs during their fight, David Platt (Jack P Shepherd) panicked when she started to come round. Gail couldn't remember what had happened, but worried David confessed to girlfriend Tina McIntyre (Michelle Keegan) that he was responsible for the fall and asked her to give him an alibi. So when the police hauled him in for questioning, David lied that he was with Tina at the time. And Tina backed up his story…
Emmerdale
Nicola De Souza had been trying to bump off her elderly husband Donald (Michael Jayston) but when it came to the crunch, she couldn't do it. Donald suggested a day up on the moors, then told Nicola he knew she was trying to kill him and released the brake on his wheelchair to make it easier for her. But as the wheelchair careered out of control, Nicola screamed and chased after him. At the last minute the chair hit a rock and threw Donald to safety… and Nicola burst into tears of relief.
Andy Sugden (Kelvin Fletcher) was freed from prison on appeal and arrived home to an ecstatic welcome from new wife Jo (Roxanne Pallett) - the couple had married while he was behind bars. But their 'honeymoon' was soon over when Andy discovered Jo had been struggling to hold things together at the farm while he was inside and, instead of sympathising, lost his temper and accused her of messing everything up!
Hollyoaks
Nancy Dean (Jessica Fox) and Justin Burton (Chris Fountain) were both traumatised by events over little Charlie (Justin's son with Nancy's late sister Becca) and found themselves pouring their hearts out to each other. Then they kissed, and one thing led to another… Next day it was a relief on both sides when they agreed their night of passion had been a mistake!
Easter was coming and Max Cunningham (Matt Littler) - dressed for a charity fund-raiser - wanted to propose to girlfriend Steph Dean… but was hiding the ring in a hot cross bun such a good idea? No it wasn't, as when his back was turned, his little half-brother Tom (Ellis Hollins, dressed as the Easter Bunny) mixed up all the buns. Then, as Max frantically tried to find the one with the ring in it, Tom interrupted, clutching his aching tummy. Oh dear… Would that ring ever be seen again?!
Get the latest updates, reviews and unmissable series to watch and more!
Thank you for signing up to Whattowatch. You will receive a verification email shortly.
There was a problem. Please refresh the page and try again.