10 Years Ago in the Soaps including EastEnders: Week Beginning March 31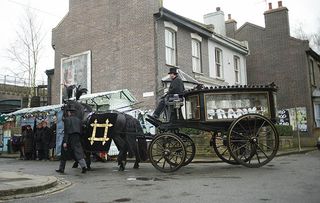 (Image credit: BBC)
10 Years Ago in the Soaps… Remind yourself of all the soap drama that was happening in EastEnders, Coronation Street, Emmerdale and Hollyoaks 10 years ago this week!
There were tears all round as Frank Butcher was buried in EastEnders, Leanne Battersby's restaurant went up in smoke in Coronation Street, Gennie Walker crash-landed in Emmerdale and Calvin Valentine investigated when a body turned up in  Hollyoaks - 10 Years Ago in the Soaps…
10 Years Ago in the Soaps - EastEnders
Peggy Mitchell and Pat Evans were stunned when Ricky (Sid Owen) and Diane Butcher turned up in Albert Square with the news that Frank Butcher - ex-husband to both women - had died! Peggy and Pat were soon arguing about the funeral plans but Frank had requested a proper East-end send-off, so that's what he got. There was another shock when Janine (Charlie Brooks) turned up, playing the devastated daughter to perfection, but she did appear genuinely upset as she and Ricky scattered their dad's ashes.
Away from the Square, Bianca Jackson (Patsy Palmer) and her kids, Morgan (two), Tiffany (five), Liam (nine) and 15-year-old Whitney, were broke and being chucked out of a B&B because they couldn't pay their way. With nowhere to go, Bianca tried calling on Social Services and an old mate but, with no luck, she eventually met up with her ex, Ricky Butcher. But then, instead of coming clean, she did a runner because she didn't want to admit the dire straits they were in. Big mistake…
10 Years Ago in the Soaps - Coronation Street
Paul Clayton (Tom Hudson) was so in thrall to Leanne Battersby (Jane Danson) he'd do anything for her - including torching her failing restaurant Valandro's so she could claim the insurance. Paul was nervous as he used a candle to set fire to the restaurant's wallpaper, but the thought of his new life with Leanne saw him through. As the blaze gutted the restaurant he comforted Leanne as she played the part of distraught businesswoman. But he soon sussed that he'd been a fool for love…
With lots of building work going on in the Street, it was an accident waiting to happen. And that accident very nearly DID happen when young Amy Barlow narrowly escaped being run over by a builders' van. Luckily bookie Harry Mason (Jack Ellis) leapt into action and snatched Amy to safety, but her dad Steve McDonald was furious about the near miss.
10 Years Ago in the Soaps - Emmerdale
Gennie Walker (Sian Reese-Williams) made a dramatic entrance to Emmerdale when she was knocked off her moped by a car driven by Ross Kirk (Samuel Anderson). She was on her way to meet her birth dad Shadrach Dingle for the first time but Shadrach waited in vain as paramedics rushed Gennie to hospital. Meanwhile, Ross persuaded Paddy Kirk (Dominic Brunt) to take the blame for the accident because he was over the drink-driving limit, opening a big can of worms as Gennie was taken to intensive care…
Donna Windsor-Dingle's fellow police office Shane Doyle (Paul McEwan) was a womanising bully. He was making her life a misery but when, at a party, they agreed to start afresh, Shane got the wrong idea and made a move on Donna (Verity Rushworth), refusing to take no for an answer when she tried to fight him off. Luckily Ross Kirk came to her rescue and Donna rushed home, planning to report Shane for assault. But she came unstuck when her boss took Shane's side…
10 Years Ago in the Soaps - Hollyoaks
Barry 'Newt' Newton (Nico Mirallegro) and Lauren Valentine (Dominique Jackson) were playing a prank on Elliot Bevan (Garnon Davies) when they stumbled over a dead body in the woods - and feared they had killed him. At first copper Calvin Valentine (Ricky Whittle) thought it was one of their practical jokes when they insisted they had found a body. But eventually the police went to the woods to investigate and there was indeed a body - but not Elliott's. Everyone was stunned when it was later revealed to be the body of businessman Sean Kennedy, one-time husband of Louise Summers.
A passionate argument turned to a whole different kind of passion for John Paul McQueen (James Sutton) and Father Kieron Hobbs (Jake Hendriks). Unable to deny their feelings for each other any longer they spent the night together, waking next day to troubled consciences. When John Paul confessed that Kieron didn't mean enough to be worth the risk of getting caught, Kieron realised that breaking his vows could have been the biggest mistake he'd ever made…
Get the latest updates, reviews and unmissable series to watch and more!
Thank you for signing up to Whattowatch. You will receive a verification email shortly.
There was a problem. Please refresh the page and try again.