10 Years Ago This Week in the Soaps: July 22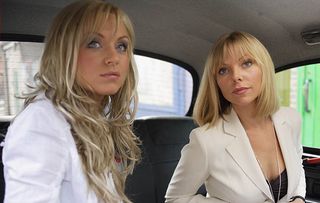 (Image credit: BBC ONE)
Remind yourself of all the soap drama that was happening in Corrie, Emmerdale, EastEnders and Hollyoaks 10 years ago this week!
EastEnders
Looked who arrived in Albert Square 10 years ago this week! Sisters Ronnie (Samantha Womack) and Roxy Mitchell (Rita Simons) flew in from Ibiza, where they had been running a bar, for their cousin Phil Mitchell's marriage to Stella Crawford. By the time they got to Walford, though, Stella was dead. And while the family dealt with that, Ronnie and Roxy set themselves up behind the bar and started to run the Vic… And Bradley Branning couldn't wait to be served by the hot blondes! Haha. Down boy! Ronnie and Roxy would prove to be too much woman for most of the men in Albert Square…
With Ronnie and Roxy running the pub, Peggy Mitchell (Barbara Windsor) had some time for her troubled son, recovering alcoholic Phil (Steve mcFadden)… He was devastated over son Ben's abuse at the hands of Stella, the woman he had very nearly married. Stella was dead but Phil was living with a lot of guilt and got into a fight with some random blokes, desperate to be hurt the way Ben had been. He didn't expect his mum to wallop him, too, though! But Peggy found Phil, she gave him a hard slap across the face and told him to man up and sort himself out! Ah, the tough love approach… That's who Phil learned it from!
Carl King (Tom Lister) liked the ladies and this time 10 years ago the lady he was liking was DCI Grace Barraclough (Glynis Barber). Her interest in him was professional – at first. She started dating him to try to find proof that he killed his father. But Grace fell for Carl and they fell into bed. Grace warned Carl that they had to be careful or she could lose her job. Did he care about that? Carl only ever really cared about himself.
Awww! Poor little Kelly Windsor (Adele Silva)! She had (somehow) just launched a career as a model when she was told she was pregnant. Kelly was stunned. Her baby's daddy was Jimmy King and she did love him. But forced to choose between keeping the baby or keeping her modelling work, Kelly chose the job.
Corrie
Crazy Casey Carswell (Zoe Henry) had convinced Claire Peacock that she needed a break from her rocky marriage to Ashley (Steven Arnold)… And while Claire was away, Casey made herself available to Ashley, helping out with childcare. To thank her, Ashley invited her to dinner, then got all soppy over Claire being away. But no sooner had he finished saying how much he wanted Claire to come home than he was kissing Casey! It was exactly what she wanted but Ashley told her he had made a massive mistake. And Casey didn't want to hear that! So the trouble that Ashley's marriage was in got a whole lot bigger!
The Violet Wilson-Sean Tully baby-making story took another twist this week 10 years ago, when Sean (Antony Cotton) pushed Violet to take a pregnancy test… She had suffered an ecotopic pregnancy months earlier and was she was scared it would happen again. But, in private, Violet (Jenny Platt) did the necessary with the testing stick – and then burst into tears at the result! Viewers had to wait for the next week to find out why…
Amy Barnes (Ashley Slanina-Davies) was only 15 years of age when she gave birth to daughter Leah in February, the result of her one-night stand with a lad called Billy. Her dad, Mike (Tony Hirst) was furious and her mother Kathy (Sarah Jane Buckley) was so ashamed of Amy, she stepped in and said she would raise Leah as her own. And Amy went along with it until this week 10 years ago… Amy totally fell in love with her daughter and told Kathy that she wanted to bring up Leah. That didn't go down well.
Hannah Ashworth's (Emma Rigby) eating disorder continued to worsen when her so-called friend Melissa convinced her she shouldn't go on holiday with her family because of all the fattening food she would have to eat. Gilly Roach (Anthony Quinlan) was concerned about Hannah but he got a shock when he tried to talk to her…
Hannah attacked Gilly and accused him of interfering in her life!
Get the latest updates, reviews and unmissable series to watch and more!
Thank you for signing up to Whattowatch. You will receive a verification email shortly.
There was a problem. Please refresh the page and try again.