14 British TV shows that lived or died on the big screen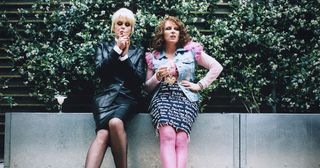 Many popular British TV shows have been turned into films over the years, some with more success than others, like the recent Ab Fab movie. We separate the hits from the misses...
Booze-addled socialites Patsy and Edina made their big screen debuts when Ab Fab: The Movie hit cinemas last week, with the film capturing some decent reviews and lots of ticket sales.
Jennifer Saunders and Joanna Lumley aren't the first Brits to turn a hit TV show into a movie, but while some of their predecessors' efforts have been praised by the critics, others have left their fans feeling sorely disappointed.
So we take a look at some of Britain's most famous – and infamous – film spin-offs of classic shows and decide whether they were hits or misses…
Doctor Who
Peter Cushing starred as the Doctor on the big screen twice during the 60s, yet both Doctor Who and the Daleks (1965) and Daleks – Invasion Earth: 2150 AD (1966) were met with widespread derision.
Reviewers bemoaned the lack of inventiveness of the films, which seemed to lack the charm of the hit TV series, one describing them as 'limply put together and only for indulgent children'. Oh well!
VERDICT: MISS
https://youtu.be/xdCljB4R9HI
Paul McGann had a little more success with the imaginatively titled Doctor Who: The Movie in 1996. An American/Canadian/British production, the film was primarily aimed at sci-fi fans across the pond, yet proved a hit in Britain when it was aired on BBC1.
VERDICT: HIT
https://youtu.be/sAaONLUPhAk
Dad's Army
A feature film of the popular BBC1 sitcom was released in 1971 and proved a big hit with the public, going on to become the fifth most popular film of the year at the box office.
The movie, which starred the same cast as the TV series and told the story of the home guard platoon's formation and training, received mixed reviews from the critics and planned sequels never made it into production.
VERDICT: HIT
https://youtu.be/tgIva9-vNsE
This year's film reboot, in which Captain Mainwaring and the Walmington-On-Sea home guard platoon had to root out a German spy, received mixed reviews, despite an all-star cast…
VERDICT: MISS
https://youtu.be/Nig2SQk6jx4
Monty Python's Flying Circus
The groundbreaking comedy series, which starred John Cleese, Eric Idle, Michael Palin, Graham Chapman, Terry Jones and Tery Gilliam, was a runaway success when it premiered on BBC1 in 1969.
The spin-off films, And Now For Something Completely Different (1971), Monty Python and the Holy Grail (1975), Monty Python's Life of Brian (1979) and Monty Python's Meaning of Life (1983) also received critical acclaim, with their second and third big screen outing among the most celebrated (and quotable) British films ever!
VERDICT: MEGA HIT!
https://youtu.be/TKPmGjVFbrY
I'm Alan Partridge
Another eminently quotable comedy show, I'm Alan Partridge was loved by millions as a BBC2 comedy and following a few Sky spin-offs, Steve Coogan and the rest of the cast treated us to Alan Partridge: Alpha Papa in 2013.
The film, in which Alan becomes embroiled in a hostage situation at North Norfolk Digital radio station, was popular with both cinema-goers and critics alike. A-ha!
VERDICT: HIT
https://youtu.be/bDCVtEilrGU
The Avengers
Game of Thrones fans might know Diana Rigg as an old battle-axe who's hell-bent on getting revenge on those pesky Lannisters, but back in the day she starred alongside Patrick Macnee as 60s sex symbol Emma Peel, in ITV spy-fi series The Avengers.
In the 1998 big screen version, Uma Thurman and Ralph Fiennes starred as a pair of British spies trying to bring down evil villain, Sir Augustus De Wynter, played by a scenery-chewing Sean Connery.
The film was a flop at the box office and was absolutely slammed by critics, with review aggregator website Rotten Tomatoes giving it a measly 5%. Which means it's a shocker.
VERDICT: MISS
https://youtu.be/kgTiFsCMCo4
The Inbetweeners
A runaway success when it debuted on E4 in 2008, this comedy about four lads in sixth form who spend most of their time failing to pull girls and ridiculing each other's attempts to pull girls ran for three series.
With such a cult following, a movie was soon in the works and in 2011 it went on to earn more at the box office during it's opening weekend than any other independent British film in history. The sequel didn't do too badly either.
Not bad for a briefcase w****r, eh Will?
https://youtu.be/V3HzTKbsqsY
The Magic Roundabout
Kids and parents alike were freaked out by Dougal and the Blue Cat, a movie spin-off of iconic kids TV show, The Magic Roundabout, which hit British cinemas in 1972. One critic said the nightmarish scenes from the film more accurately replicate a bad acid trip than any film... apart from maybe Easy Rider!
VERDICT: JURY'S OUT
https://youtu.be/esldbiVSFIs
French-British computer-animated film The Magic Roundabout (2005) featured an all-star voice cast, including Jim Broadbent, Joanna Lumley, Bill Nighy, Kylie Minogue, Ray Winstone and Sir Ian McKellan and received generally positive reviews.
VERDICT: HIT
https://youtu.be/J32YSdeCluE
Steptoe and Son
The much-loved BBC1 sitcom about a pair of rag and bone men ran for eight series between 1962 and 1974, and stars Harry H Corbett and Wilfrid Brambell brought the show to the big screen in 1972.
The film was a financial success and a film sequel, Steptoe and Son Ride Again, was released the following year!
VERDICT: HIT
https://youtu.be/U_1s1MeNgSA
On The Buses
The 1971 film version of the well-loved TV series, which starred Reg Varney as happy-go-lucky bus driver Stan Butler, was a phenomenal success at the box office and became the highest performing film of 1971, even outdoing Bond film, Diamonds Are Forever!
This reception led to producers ordering two movie sequels, Mutiny On The Buses (1972) and Holiday On The Buses (1973)…
VERDICT: HIT
https://youtu.be/fh1FxT-oVpU
Are You Being Served?
An adaptation of the successful stage version of the hit BBC sitcom, which was set in the clothing departments of a London department store, the film was met with scathing criticism.
Most critics accused the movie of lacking originality, plot and focus, with one reviewer saying it is was 'guilty of violating almost every law of comedy and film'. Ooh-er missus!
VERDICT: MISS
https://youtu.be/sM1nF4iIAXg
The Thick Of It
Before he was a Timelord, Peter Capaldi was Malcolm Tucker, the government's foul-mouthed director of communications in this popular political satire.
After the series developed a cult following, creator Armando Iannucci wrote In The Loop, a critically acclaimed big-screen comedy that poked fun at British-American political relations, starred the late James Gandolfini and served as a forerunner to hit US show Veep.
VERDICT: HIT
https://youtu.be/_VDc7-YH1LA
George and Mildred
This 1980 adaptation of popular ITV comedy seemed doomed to failure from the moment of release, which came shortly after the death of Yootha Joyce, who played Mildred.
The film slumped at the box office, but was savaged by the critics, with one describing it as 'one of the worst films ever made in Britain. So strikingly bad, it seems to have been assembled with a genuine contempt for its audience'.
Check out this interview with the Yootha and co-star Brian Murphy...
VERDICT: MISS
https://youtu.be/gE-3utPaAdU
Spooks
One of the few British examples of a non-comedy to get a big screen version, this spy caper received mixed reviews when it was released last year.
Starring Game Of Thrones heartthrob Kit Harrington ("You know nothing, Jon Snow") as the estranged protégé of Spooks legend Harry Pearce, the film was praised for it's style and action, but many felt the material was better suited to the small screen.
VERDICT: JURY'S OUT
https://youtu.be/kZDRkoi4VHI
Edge of Darkness
Part crime drama, part political thriller, this BBC2 drama only ran for one series in 1985. Starring Bob Peck as a policeman investigating the death of his daughter and eventually getting dragged into a world of government cover-ups, the crime drama was met with critical acclaim.
Nearly 25 years later, the series was adapted into a British-American feature film starring Mel Gibson. While Gibson was praised for his performance, the film received a lukewarm reception from critics.
VERDICT: MISS
https://youtu.be/MxK__2MGm7A
Porridge
Including one of the final appearances of Richard Beckinsale, who passed away shortly after filming was completed, the film version was released two years after the final series aired on BBC1.
The film, which also starred comedy legend Ronnie Barker as Norman Stanley Fletcher, was generally well received and yet any thought of further projects were ended by the death of Beckinsale.
VERDICT: HIT
Have we missed out you favourite? Let us know!
Get the What to Watch Newsletter
The latest updates, reviews and unmissable series to watch and more!
Feature writer for TV Times, What's On TV, TV & Satellite Week and whattowatch.com
Sean has been writing about all things telly for over 10 years and in that time he's been lucky enough to interview stars like Ian McKellen, Tom Hardy and Kate Winslet. His favourite shows are The Great British Bake-Off, People Just Do Nothing and Succession and in his spare time he enjoys drinking tea, doing crosswords and watching football.