Coronation Street women on trial - Anna's not the first! From Deirdre to Fiz the Weatherfield ladies who've been in the dock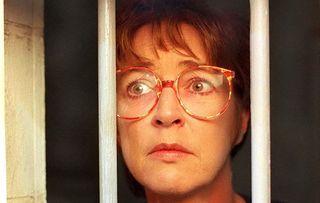 (Image credit: ITV/REX/Shutterstock)
Coronation Street women on trial - as Anna Windass is wrongly accused of GBH, we look back at the Weatherfield women who've entered the courtroom...
DEIRDRE IN DISGRACE (1998) - Coronation Street women on trial
Has there ever been a better Corrie court case than when Deirdre Rachid was on trial for fraud? The Weatherfield legend was stitched up by boyfriend Jon Lindsay and there was a national outcry when she was found guilty. "Free the Weatherfield One" t-shirts were all the rage, and then PM, Tony Blair, even raised the matter in the House of Commons. Thankfully, Deirdre was exonerated following an appeal, and later reunited with Ken.
RITA'S REGRET (2004)
When Chesney stole sweets from The Kabin, Rita threatened to give him a clip round the ear if he did it again – something the lad's mum, Cilla, capitalised on when Ches later fell and hurt his head. Cilla lied to police that Rita had attacked him, and even coached her son to fib in court. Rita was found guilty and, though she avoided prison, she and Norris were briefly locked up for contempt of court, after giving the magistrate a mouthful.
TRACY ON TRIAL (2007)
Most Weatherfield women who've appeared in court were innocent – but Tracy Barlow was guilty as sin when she stood trial for murdering boyfriend Charlie Stubbs. She'd found out that he'd been sleeping with Maria (they've all been there, Tracy) and clobbered him on the head with a statue. She was sentenced to life imprisonment, but was back on the cobbles three years later when she was found not guilty in a retrial, due to unreliable forensic evidence.
GAIL IN JAIL (2010)
When Gail's fifth husband, Joe McIntyre, became crippled with debt, he decided to fake his own death in a drowning accident to claim on the life insurance. But he made a pig's ear of it and carked it for real – and Gail was charged with his murder. Tracy didn't help, by lying in court that Gail had confessed to killing Joe with a rolling pin. Fortunately, the jury didn't believe her, and Gail was acquitted.
FIZ IN THE FRAME (2011)
"I only wanted to teach…" When John Stape stole Colin Fishwick's identity in order to return to his job as a teacher, his life spiralled out of control, and he was involved in the deaths of three people – Colin, Charlotte Hoyle and Colin's mum, Joy. Inevitably, innocent wife Fiz got dragged into the whole sorry mess. The knicker stitcher was found guilty of Colin's murder and sentenced to life behind bars, but was released when John confessed all on his deathbed.
ANNA WINDASS - Framed, shamed and on trial (2018)
What will the verdict be for Anna?
Pics: ITV/REX/Shutterstock
Get the latest updates, reviews and unmissable series to watch and more!
Thank you for signing up to Whattowatch. You will receive a verification email shortly.
There was a problem. Please refresh the page and try again.