What the Game of Thrones stars are doing next!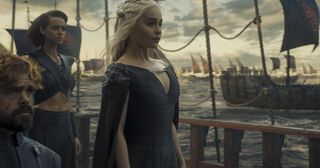 (Image credit: ©2016 Home Box Office, Inc. All)
Following the season six finale, we take a look at what Game of Thrones stars Sophie Turner, Emilia Clarke and Kit Harington are up to next…
The dust has yet to settle on last week's explosive Game of Thrones season six finale. In what's already being touted as the fantasy drama's best-ever episode, fans were treated to acts of betrayal and vengeance, eye-opening visions, rallying speeches from diminutive leaders and dragons – big, no-nonsense, sizzle-you-like-a-sausage dragons.
You might think, after all that, the cast of the show would want to sit in a darkened room, have a nice cup of tea, and rest until it all starts up again. But that's not the case - they're keeping busy!
Here's a look at what a few of our favourite stars from the series are up to next (along with some of the other stuff they've done)…
Sophie's already faced up to a bigger threat than Ramsay Bolton – as Jean Grey in X-Men: Apocalpyse, she joined forces with Charles Xavier and some super-powered pals in a potentially civilization-ending battle with the mega-destructive mutant Apocalypse. If you missed the movie at the cinema in May, catch it when it's released on DVD later this summer.
Sophie will appear alongside Goodfella's star Ray Liotta in Alone, a US indie movie about a struggling war veteran who befriends a teenage girl. The feature is currently in post-production with a release date set for later this year.
Sophie also has a role in upcoming movie, Berlin, I Love You, which features 10 stories of romance set in the German capital and is reported to include appearances from the likes of Boardwalk Empire's Jack Huston and Dallas Buyers Club's Jared Leto.
Emilia Clarke (Daenerys Targaryen)
Emilia's shown herself to be adept at taming not only dragons, but also Arnold Schwarzenegger, playing Sarah Connor in last year's action movie Terminator Genisys. She appeared opposite The Hunger Games' Sam Claflin in the big-screen adaptation of Jojo Moyes romantic novel Me Before You earlier this year (the DVD is out later this summer).
Emilia plays nurse Verena in the upcoming atmospheric mystery drama film Voice from the Stone, which is set in 1950s Tuscany. The movie is currently in post-production. The London-born star, who grew up in Berkshire, will also appear in the 2017 thriller Above Suspicion alongside Jack Huston (see Sophie Turner above)… let's hope Jack doesn't tell Emilia he prefers Sophie as a co-star – he can expect a visit from three aggrieved dragons if he does.
Kit learned a valuable lesson in 2014's big screen historical disaster Pompeii – it takes more than curly hair and oiled abs to save a city from pyroclastic flows of hot ash. He flexed both his muscles and acting chops on the London stage earlier this year in a production of Doctor Faustus, Christopher Marlowe's classic play about a man who sells his soul to the Devil.
Kit is set to appear opposite Dakota Fanning and Guy Pearce in the upcoming Western thriller movie Brimstone. He plays outlaw Samuel, a role initially slated to be played by Twilight's Robert Pattinson. Kit might want to keep Melisandre nearby, just in case his character, Samuel, carks it.
PLUS… Lena Headey (Cersei Lannister) provides the voice of Lunafreya Nox Fleuret in Kingsglaive: Final Fantasy XV, the computer-animated sci-fi film; Natalie Dormer (Margaery Tyrell) stars alongside Stanley Tucci and Matt Smith in horror thriller Patient Zero; Peter Dinklage (Tyrion Lannister) joins Frances McDormand in crime drama Three Billboards Outside Ebbing, Missouri; Maisie Williams (Arya Stark) appears in the Mary Shelley biographical drama A Storm in the Stars.
And... winged beast Drogon appears in a remake of 1977's Pete's Dragon (this is not true).
Get the latest updates, reviews and unmissable series to watch and more!
Thank you for signing up to Whattowatch. You will receive a verification email shortly.
There was a problem. Please refresh the page and try again.