Something for the Weekend: Mozart in the Jungle, Love and Murder in Successville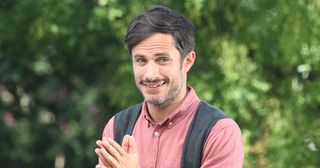 (Image credit: Startraks Photo/REX/Shutterstock)
Stuck for something to watch this weekend? Sit back and enjoy streaming stand-outs Mozart in the Jungle (Amazon Video), Love (Netflix) and Murder in Successville (BBC iPlayer)
If you think telly is a bit lacking over the summer, have a peek at these top shows available on streaming services Amazon Video, Netflix and BBC iPlayer...
Mozart in the Jungle (Amazon Video) Have you ever wondered what really goes on behind the curtains of a renowned symphony orchestra? It's a lot more than string tuning and baton waving. Amazon drama series Mozart in the Jungle peers into the pit and uncovers a world of sex, drugs and classical music!
https://www.youtube.com/watch?v=QixpBQcGAqc
Gael Garcia Bernal (star of movies The Motorcycle Diaries and Bad Education) heads the cast as Rodrigo De Souza, a brilliant-but-brash young maestro, who is appointed chief of the New York Symphony Orchestra as ageing conductor Thomas (Malcolm McDowell) takes his final bow.
The ailing orchestra's fortunes – and the careers of established and aspiring musicians, like driven young oboist Hailey (Lola Kirke) – rest on the maverick maestro's shoulders. For Rodrigo, and the rest of the orchestra, there are as many highs and lows off the stage as there are on it...
A wise man once said, 'Love, love changes everything'. But can it fundamentally change a person? Netflix comedy drama Love charts the dynamics of a new relationship between two seemingly unsuited characters...
https://www.youtube.com/watch?v=q2pNXDoMu5Y
The series was co-created by Judd Apatow, the man behind comedy hits The 40-year-Old Virgin, Knocked Up and Trainwreck, and follows socially awkward Gus (comedy actor Paul Rust) and fiery party girl Mickey (Community star Gillian Jacobs) as they're brought together in a chance encounter and develop an unexpected connection.
Reserved Gus thinks Mickey may help to bring him out of his shell, while wild child Mickey thinks dating Gus could help to curb her excesses. As the pair get closer, will they learn they're not the people they think they are?
Murder in Successville (BBC iPlayer)
Who is responsible for the vandalism of Lady Gaga's topiary? Has Lindsay Lohan been spray-tanned to death? These are the questions facing imposing detective DI Sleet in Murder in Successville...
https://www.youtube.com/watch?v=U12Iwj30i9I&feature=youtu.be
Part sitcom, part crime spoof, part murder mystery, Murder in Successville first aired on BBC Three and is now available as a two-series box set on BBC iPlayer.
Each episode sees fictional detective DI Sleet (comic actor Tom Davis) investigating a murder in the fictional town of Successville with the help of a genuine celebrity sidekick – Emma Bunton, Dermot O'Leary and Mark Wright are among those partnered with the trench-coated cop.
The town of Successville is itself populated by famous names (it's actually comics portraying the high-profile inhabitants). Look out for forensics officer Angela Merkel, police chief Gordon Ramsay and gangster twins Alan and Jimmy Carr!
Get the latest updates, reviews and unmissable series to watch and more!
Thank you for signing up to Whattowatch. You will receive a verification email shortly.
There was a problem. Please refresh the page and try again.