Box Set Binge: Good Girls Revolt, Haters Back Off and HIM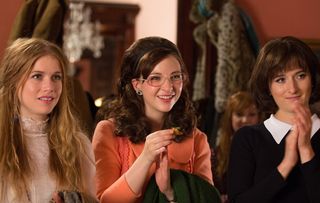 (Image credit: Jessica Miglio)
Stuck for something to watch this weekend? Sit back and enjoy streaming stand-outs Good Girls Revolt (Amazon Video), Haters Back Off (Netflix) and HIM (ITV Hub)
Have a peek at these top shows available on streaming services Amazon Video, Netflix and ITV Hub...
Good Girls Revolt (Amazon Video)
Inspired by real events, Amazon Video's 10-part drama follows a group of young female researchers at the fictional News of the Week magazine as they rise up and fight for gender equality.
https://www.youtube.com/watch?v=PDw44D27K2A
It's 1969 in the busy newsroom of the fictional News of the Week magazine, and resourceful researcher Patti Robinson (Genevieve Angelson) is going all out to cover every possible aspect of a breaking story. But Patti's unlikely to get the credit she deserves.
At News of the Week, female researchers are partnered with male reporters – and it's the male reporters that get the bylines, the respect, and the promotions. But enough's enough and a time of reckoning has come, with Patti and her female colleagues resolving to launch a legal action against the magazine for gender discrimination.
The drama is based on a true story, which was charted in the book The Good Girls Revolt by journalist Lynn Povich. In 1970, more than 40 female employees at Newsweek magazine filed a class action sexual discrimination lawsuit against the title. Their decision had a profound affect on their lives and careers and sent a clear message not only to their bosses, but to the world…
Netflix's eight-part comedy series, Haters Back Off, opens with aspiring (and comically deluded) performer Miranda Sings uploading her tone-deaf cover of Defying Gravity to YouTube. Her vocal performance is equal parts awful and captivating. Does viral superstardom beckon..?
https://www.youtube.com/watch?v=bDDAClMibkM
Miranda Sings is already an online sensation. Her YouTube channel has millions of subscribers and her videos have achieved more than a billion views. She is a fictional character, created by US comedy actress Colleen Ballinger as a satire of terrible singers who crave online stardom. Since 2008, Colleen has posted more than 500 videos as Miranda Sings.
For this Netflix original series, co-created by Colleen and her brother, Christopher, Miranda is depicted at the start of her bid to become famous. Her adoring uncle Jim (Steve Little) has hatched a five-phase plan to make Miranda a household name, but his efforts seem set to be thwarted…
Eke out the Halloween chills with ITV's three-part horror-drama HIM, available on the channel's streaming service, ITV Hub, now.
The chilling story centres on a 17-year-old boy (played by Fionn Whitehead) known only as HIM. His parents, Hannah (Katherine Kelly) and Edward (James Murray), are divorced and in new relationships – and HIM doesn't feel a part of either family.
The teenager's bottled-up emotions spill out with unexpectedly terrifying consequences, however, as he possesses supernatural abilities that only emerge when he becomes distressed. Can HIM learn to control the powers he has inherited from his grandfather before they end in tragedy?
Get the What to Watch Newsletter
The latest updates, reviews and unmissable series to watch and more!