Brooke Vincent: Sophie Webster is terrified her little brother will die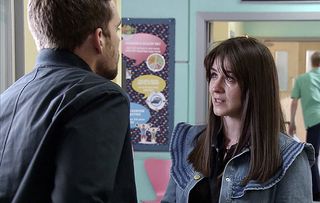 Coronation Street star Brooke Vincent says Sophie Webster feels guilt and fear when her little brother Jack falls ill while she's babysitting…
It's a babysitters' nightmare that something will happen while they are minding a child. But for Sophie Webster (Brooke Vincent), it's a double whammy of worry when her little brother, Jack Webster, becomes sick while their dad, Kevin Webster, is away for the day.
What's the story?
"Jack complains he doesn't feel well but Sophie thinks it's something-and-nothing and she sends him to school," actress Brooke Vincent tells Soaplife. "He's sent home and the doctors at the Health Centre initially say he just has a viral infection. But when trainee doctor Ali Neeson later calls round to check on Jack, he immediately sends the little boy to hospital." It turns out Jack has contracted life-threatening sepsis …
What's happening in Coronation Street? See the latest soap storylines
Coronation Street star Brooke Vincent talks with Soaplife about Sophie Webster's shock when her brother Jack is taken seriously ill…
Soaplife: How does Sophie react when Ali says Jack must go to hospital?
Brooke Vincent: "Having noticed discolouration of Jack's fingers and toes, Ali calls an ambulance. Everything happens so quickly and Sophie doesn't realise what's going on. It's not until they get to the hospital that sepsis is mentioned. Sophie doesn't really know what it is, but she can see things are moving quickly and she's terrified. They're told the next 24 hours will be crucial, and Sophie and Kevin – who's back by this time - are left clinging to that."
S: Does Sophie feel guilty that she missed something?
BV: "She blames herself for failing to realise the seriousness of Jack's illness. She feels a mixture of guilt, shock and fear. Everything escalates so quickly and Sophie's lost with all the medical jargon. They just have to believe Jack's in the right place and that he'll respond to treatment."
S: How is Jack?
BV: "Jack's sedated in intensive care and, once sepsis is confirmed, it becomes clear his life is hanging in the balance. Sophie's just praying he pulls through, so everyone is devastated when they hear he isn't responding to the antibiotics as well as they'd hoped."
S: How does Kevin react?
BV: "Kevin's trying to be strong, He won't leave Jack's bedside and they're all praying for an improvement. Sophie can't shake the feeling that Kevin somehow blames her for what's happened."
S: Does Sophie blame herself or the doctors who initially missed this?
BV: "Sophie's all over the place. There's guilt, fear, anger and blame all rolled into one. She's trying to hold it together to support Kevin and Jack."
S: Did you know anything about sepsis before this storyline?
BV: "I didn't know to the extent it can affect you if you have it. It is very confusing to know exactly what it is and how to spot it. Hopefully this storyline will help."
Coronation Street continues on ITV.
Get the latest updates, reviews and unmissable series to watch and more!
Thank you for signing up to Whattowatch. You will receive a verification email shortly.
There was a problem. Please refresh the page and try again.