Call the Midwife's Jack Ashton on Tom's adoption struggle: 'He goes back 30 years and see himself as THAT baby!'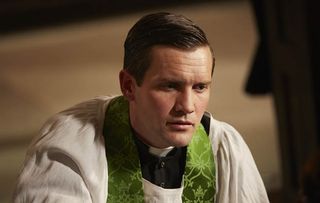 (Image credit: BBC/Neal Street Productions)
Call the Midwife's never afraid to tackle difficult social issues, and this week, the spotlight is on adoption. Actor Jack Ashton reveals how one young mother's situation forces vicar Tom Hereward to think about his own upbringing...
The plight of a penniless mother brings back painful memories for Poplar's resident vicar Tom Hereward in this week's Call the Midwife, as actor Jack Ashton reveals…
How does vicar Tom Hereward get involved with local girl, Marnie, in this week's Call the Midwife? "Tom hears from Trixie that Marnie has financial issues and, being the good vicar, Tom decides to see if can help in any way. Back in the Sixties, there were charities that could help you out when you were a single parent. But Marnie's a very proud woman and doesn't accept charity very easily. There's not much in the way of social security, so she's putting on a brave face."
Trixie asks Tom if he can help destitute Marnie, who's expecting her third child
Does Marnie have anyone else she can turn to for support? "Well, she's got this lovely storyline with her cousin, Dot, who's from a different part of town, who's done very well for herself. There's a lovely line where Dot says to Marnie: 'We want to help you' but Marnie says: 'I don't want that kind of help'. At first, as a viewer you think it's financial help but, as the story rolls on, you realise that the one thing Dot really wants is a child. Marnie agrees to let Dot adopt her baby to ease her struggle. But Marnie's situation has a profound effect on Tom…"
How so? "Tom explains to the midwives about how he was adopted when he was two months old. While Tom's adamant he doesn't blame his birth mother and had a great upbringing, seeing the dilemma Marnie's in opens up some old scar tissue. Tom starts thinking about his mother, his childhood and begins to question things he thought he'd dealt with."
Has Tom always kept his past buried up to now? Is it something of a release when he tells everyone at Nonnatus House? "Yes, I think so. We played it that Barbara and Trixie knew, so it's not a completely sealed-off secret. He's confided in those that he's been close to but I don't think it's something he would have mentioned to just anybody, no. I tried to play it like it was not a big deal - but I think it was very difficult for him to open up about."
Tom had previously confided in fiancee Barbara about his past
Given his own background, does Tom feel conflicted in the moment when Marnie hands the baby over to Dot? "Tom certainly struggles with the choice Marnie makes and, in that moment, it's like he goes back 30 years and sees himself as THAT baby. But he also realises just how difficult things must have been for his own mum to have had to give him up and he totally sympathises with Marnie."
Does seeing what Marnie goes through make him want to find out more about his own background? "Not in this episode but, certainly, having now seen the situation from his mother's side, the curiosity is overwhelming for Tom. It makes him want to look further into his past and maybe readdress it."
Tom struggles with Marnie's decision to give up her baby
Have you enjoyed exploring Tom's personal side? "Absolutely. We've got such a lovely, big cast and no one can have a lot to do in every episode. So when you do pick up a script and you see you've got a major story it's thoroughly enjoyable, especially when it's something you can really get your teeth into like this one. I'm not adopted but that's the reason why we want to be actors – to explore other people's stories."
Do you think viewers might have a different view of what they think they know about adoption from watching the episode? "The episodes of Call the Midwife that really stand out are always those episodes that make you feel something as a viewer and hopefully, potentially, slightly change your opinion about something. You can watch something and think you're absolutely sure about how you feel about it – but then you see it from a different perspective, like in this episode, and suddenly you're not so sure. That's a good thing and is what drama is for."
On a lighter note, you're engaged to Charlotte Ritchie's character, Barbara, in the show – but you're dating Helen George, who plays Trixie, in real life. Does it ever get confusing? "Ha, ha! No, thank God! When I'm dressed as Tom, I know I'm Tom, then out of costume, I remember I'm me again so, no, we don't get confused. It's been a lovely journey for all the characters and, fortunately, things are as nice in my real life as they are in my fictional life."
Call the Midwife continues Sundays at 8pm on BBC1.
Get the latest updates, reviews and unmissable series to watch and more!
Thank you for signing up to Whattowatch. You will receive a verification email shortly.
There was a problem. Please refresh the page and try again.