Callum Turner on the 'insane' fun of filming War and Peace (VIDEO)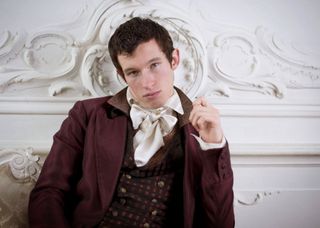 (Image credit: BBC/Mitch Jenkins)
When What's on TV caught up with Callum Turner, who plays War and Peace's Anatole Kuragin, we couldn't resist asking him about THAT incest storyline with Tuppence Middleton…
The star said: "Well, it's alluded to the in the show. It's not clarified. The scene is two people - brother and sister - in a bed. Brothers and sisters get into bed all the time!"
Callum, who was a model before his acting career took off, explained more about his War and Peace character Anatole: "I think Anatole's just enjoying life as much as he can, while he can, before he has to get responsibilities. And the only responsibility he has is to get married to someone. He's got quite an easy life."
Callum also revealed he loved being part of BBC1's star-studded adaptation of Leo Tolstoy's epic novel: "It was a lot of fun. It was Tom Burke, Paul Dano – who is one of my favourite actors – and myself, gearing up to go in to have a lot of fun."
He added: "It was great having [Stephen Rea playing] my dad. I just tried to annoy him as much as possible – which worked!
"He's a brilliant actor. But the playing of it was just to annoy Stephen as much as possible. Mainly by imitating him and playing with his hair. He doesn't like it when you play with his hair!"
The star also revealed he has an exciting projects in the pipleline: "I'm doing Assassin's Creed with Michael Fassbender… but I'm not annoying him as much as Stephen. Just trying to make him laugh more."
For the full interview with Callum Turner, watch the video above."]
Get the latest updates, reviews and unmissable series to watch and more!
Thank you for signing up to Whattowatch. You will receive a verification email shortly.
There was a problem. Please refresh the page and try again.