Carla Connor's wedding dress up for auction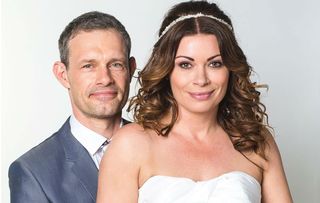 The dress worn by Carla Connor during her wedding to Nick Tilsley is to be put up for auction. The money raised will go to a hospice charity which provides palliative care.
Carla Connor's wedding dress is to be put up for auction to raise money for charity, the Coronation Street team has revealed.
The white strapless gown, which glamorous factory boss Carla wore last year as she married Nick Tilsley, has been given to St John's Hospice for them to auction off.
The money will be given to the hospice charity, which provides palliative care to cancer patients in North Lancashire and South Lakeland.
The character of Carla Connor, played by actress Alison King, was described as "the new Elsie Tanner" when she first arrived on screen in 2006.
Fans of the show and brides-to-be now have a unique opportunity to bid for and win Carla's wedding dress, worn in the tempestuous wedding episode where she married Nick Tilsley and then dramatically departed from the street in 2016.
Heather Taylor, Retail General Manager for the hospice's 10 shops, explained how exciting it is to have this unique piece of soap history. She said: "We are so grateful to Coronation Street for donating this dress to us. There is always a huge demand for this kind of memorabilia so we are hopeful that it can raise a good sum for St John's Hospice. A bride always wants her special day to be unique, what better way than to walk down the aisle in a dress featured in one of the most successful British TV shows of all time!"
The dress will be auctioned online on eBay, with the listing running for 10 days from Saturday 18th March. It will also be on display in the hospice's Kendal shop if fans would like to see the dress or try it on.
The dress comes with a certificate of authenticity and a signed photograph of Alison King. For more information, and to access to the link to bid on the dress, visit www.sjhospice.org.uk/coronationstreet
Thank you for signing up to Whattowatch. You will receive a verification email shortly.
There was a problem. Please refresh the page and try again.