Michael Stevenson reveals why BBC1's Casualty is striking a chord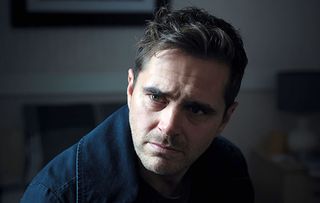 (Image credit: BBC)
Casualty star Michael Stevenson reveals paramedic Iain Dean is on the road to recovery, but it's not without it's difficulties…
Returning to work after an absence can take a bit of adjustment. For paramedic Iain Dean in Casualty, who recently tried to end his life, it's so much more than returning after annual leave.
The unfolding of Iain's mental health problems began to slowly surface last year after the deaths of suicidal patient, Mia Bellis, and Iain's pal Sam Nicholls. The result is a thoughtful storyline revealing the pressures placed on emergency service workers and their mental health, which rings true for many viewers…
"It's amazing really, given the stories Casualty are telling – it's striking a chord with many people. I think that's because of the focus on real stories… I believe that we have a responsibility to give out a positive message about the NHS. But there is equal responsibility to tell the story of the NHS staff, and that isn't always a bed of roses.
"Of course, you have to dramatize, but at the moment [Casualty] focuses on these individuals as people and what they do and what they have to face."
In last week's Paramedic Special, viewers saw Iain working at a 999 call centre, as one of many first steps towards returning to his regular duties. This week Iain returns to work at Holby ED, but recovery is not a straight line…
"A huge part of Iain's journey into recovery has been about accepting the help that's offered to him. He has made huge steps and is in a different place," says Michael Stevenson, who plays him. "Yet it's not a case of 'there he is, recovered'. It's very important to tell the next phase. Talking about how people recover is as important as talking about mental health issues. Iain's reached a turning point, and it's going to affect his relationships with everyone."
During the course of his first shift, concerned co-workers Jan Jenning and Ruby Sparks worry that Iain is pushing himself too hard. When they try to persuade him to take a step back for his own well being, however, Iain feels he's being treated with kid gloves. Can they pull together as a team?
Find out when Casualty continues on BBC1 this Saturday at 9.15pm.
Get the latest updates, reviews and unmissable series to watch and more!
Thank you for signing up to Whattowatch. You will receive a verification email shortly.
There was a problem. Please refresh the page and try again.