Casualty star Neet Mohan reveals what's next for DISGRACED doctor Rash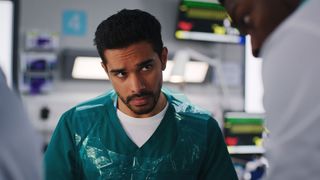 (Image credit: BBC)
Will doctor Rash Masum return to Casualty a changed man? We investigate further…
We can reveal that when  long-running medical drama Casualty returns to its Saturday night slot this week (16 November, BBC1)  doctor Rash Masum makes a sheepish reappearance at to Holby ED!
When we last saw young medic Rash (Neet Mohan) he had punched superior Ethan Hardy over a nasty comment about his deceased mum. Since then clinical lead Dylan Keogh has sent Rash on enforced leave and encouraged him to attend a conflict resolution course.
What's on TV predicts Rash's return to the ED could play out a number of different ways.
Here we tease Casualty star Neet Mohan for answers…
WOTV prediction 1: Junior doctor Mason Reede (Victor Oshin) could turn the situation to his advantage.
In the past Mason hasn't been averse to winding Rash up or shopping him to his superiors…
Neet says: "Mason is a really tricky character. Mason and Rash are two people with completely different personalities.
"They're both under pressure, and they're both dealing with it in different ways."
WOTV prediction 2: Alternatively, Mason may start seeing Rash in a new light.
It could signal a more compassionate side to the arrogant young doc, which viewers have yet to see develop…
Neet says: "Rash is slowly getting past Mason's façade. While we're still not seeing all of Mason, Rash is chipping away at this uber confident exterior he's put on.
"They're not friends at this point, but Rash is slowly working him out…"
WOTV prediction 3: Ethan (George Rainsford) could hold a grudge and begin making life (even more) difficult for the younger doctor!
Neet says: "There is a fall out and repercussions [from the punch]. Rash and Ethan's relationship is going to develop in interesting ways!"
WOTV prediction 4: On the other hand, perhaps Ethan will realise he completely overstepped the mark with Rash, and return to his role as a supportive mentor?
Though with Ethan's complicated romantic situation with Effie still playing out, this looks unlikely…
Neet says: "Ethan is still dealing with the trauma of the explosion at the start of the series and the Effie situation that's still happening.
"In the coming months we'll see where Rash's relationship with Ethan goes."
MORE: George Rainsford reveals what he really thinks of Ethan's bad behaviour
WOTV prediction 5: Rash will return to the ED determined to prove himself beyond doubt.
Rash has always been eager to please and improve as a doctor.
Neet says: "Rash is finding his position within the hospital. He's finding where he fits in and he's finding his assertiveness too. Extremely interesting times are coming up! Casualty are exploring some of the real pressures that doctors feel."
WOTV prediction 6: Recently bereaved and newly single, Rash will crumble under the Winter pressures which will undoubtedly hit Holby ED…
Neet says: "Rash's character has shifted so much since his mum's death. The fact that she's no longer there is absolutely heart-breaking. Rash is also trying to be supportive to his dad, which is hard.
"As for the situation with his ex-girlfriend Gem… I don't know if that's the end of their relationship. I wonder whether something will happen there at some point, because that feels unresolved. But, I don't know anything, I'm just supposing!"
Will Rash return to the ED a changed man? Find out when Casualty airs on BBC1, Saturday 16 November 2019…
Get the latest updates, reviews and unmissable series to watch and more!
Thank you for signing up to Whattowatch. You will receive a verification email shortly.
There was a problem. Please refresh the page and try again.