Celine McQueen's sham wedding in Hollyoaks! Actress Sarah George reveals all...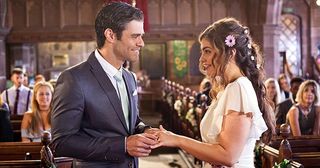 Will Celine McQueen marry Diego for money? Or will a last-minute change of heart stop the wedding? Hollyoaks' Sarah George reveals all…
The day of Celine McQueen's wedding dawns and the only person who isn't happy is the bride. But she has to make it down the aisle for the sake of the family… because groom Diego De La Cruz's mum Juanita has promised him a £5million fortune if she says 'I do.' Will she go through with it?
How does Celine feel about her sham wedding? "She's always wanted to get married, but this is for the wrong reason and she keeps thinking to herself, 'What the hell am I doing?' She changes her mind about it so many times, but the family is putting a lot of pressure on her."
But she loves Jesse Donovan… does she feel bad about him? "She really does. She didn't want to break up with him, but Myra said she had to in order to convince people that she loves Diego. Poor Jesse doesn't understand why he's been dumped."
What does Celine make of Juanita? "She's horrible to the rest of the family, but she's quite nice to Celine, which makes her feel even guiltier. She keeps telling her she's like the daughter she never had."
How does she come to be caught kissing Jesse? "She hears Leela Lomax is trying to set him up with her sister, Tegan. He goes to the McQueens' to find her, but he bumps into Celine and she can't help herself. Diego sees them and he's annoyed. He explains it wasn't part of the deal and it could blow the whole thing."
What makes Liam Donovan guess something is up? "Celine has these cue cards about Diego so she can make it look as if she really knows him. They fall out of her make-up bag when Liam's doing her hair and he thinks, 'What is all this about?' He tells Jesse, who runs off to the wedding to find out what's going on."
What does Celine tell Jesse? "It's really hard for her, but she tells him to go because it is Diego she loves."
How does Celine feel as she walks down the aisle? "She's really trying, but she can't look happy. She's literally pushed down the aisle, so there's no going back."
Will they get married? "All I can tell you is that something happens. It doesn't end the way you'd expect."
Would you marry a man for £5million? "No way! I don't have a price."
Hollyoaks continues on Monday at 6:30pm on Channel 4.
Get the What to Watch Newsletter
The latest updates, reviews and unmissable series to watch and more!