'Cheat is a cat and cat thriller!' says Katherine Kelly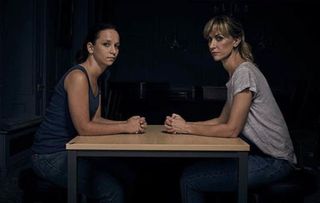 The former soap star plays an academic who makes a dangerous enemy in this series from the producers of The Missing and Liar...
Katherine Kelly plays a university lecturer whose life is turned upside down with deadly consequences in Cheat, a tense psychological thriller that plays out in four parts over next week on ITV.
The former Coronation Street favourite stars as Dr Leah Dale, whose decision to fail student, Rose Vaughan (BAFTA winner Leah Dale, Three Girls) for cheating, causes the youngster to embark upon a twisted campaign of revenge.
With Tom Goodman-Hill (Humans) and Peter Firth (Spooks) among the support cast, this tense drama is sure to keep viewers gripped, so we caught up with Katherine Kelly to find out more…
What first attracted you to this project?
Katherine Kelly: "The scripts were amazing and it had been a long time since I read such a page-turner. The twists and turns don't land where you expect them too, that's for sure! On the face of it, Cheat is about a simple case of plagiarism, but the story quickly moves on to explore the theme of being a 'cheat' rather than a particular incident."
What can you tell us about Leah?
KK: "She's a university lecturer in sociology and an academic from an academic household. Her father Michael (Peter Firth) is a recently retired university lecturer and Leah is also married to an academic. She studies many theories and philosophies in human behaviour, but her grasp on life is all 'in theory'. She understands the theory of good marriage, having children, of how humans operate, their motivations and behaviour. But she doesn't doesn't really know much about life in practice, she's lived in a bubble."
https://youtu.be/IFENHdL46TI
Where does Rose fit in?
KK: "A young student called Rose bursts that bubble as she doesn't fit into any of Leah's theories. The only certainty in life is change and people will always come along who challenge you."
How does Leah react to this challenge?
KK: "At the beginning she is a well-rounded, fine and upstanding citizen in the community. She lives a pedestrian life, full of structure and routine. As the story develops she changes and I found it exciting to see that unfold. There's an unpredictablilty to her, she's a mystery to herself and not just the audience. She's never been tested, so when Rose pushes her buttons what will that lead to? It's not a cat and mouse thriller – it's cat and cat!"
So is Rose the baddie?
KK: "We all thought it was really important that there wasn't a hero and a villain in this. That's what's so clever about the script, it's not cut and dried like that. As the story develops you really see a new side to Leah and she does some questionable things!"
How would you describe Leah's relationship with her husband, Adam, who's played by Tom Goodman-Hill?
KK: "There's a tension to their marriage about a lot of things. They are in their own little world and seem happy on paper, but in practice, they aren't. They are trying to conceive, which forces them into having some difficult conversations. Tom and I found it painfully awkward to play at times. I know marriages like that aren't unusual, but I don't think many people enter into a marriage anticipating it's going to end up that way."
What was it like working opposite Molly Windsor?
KK: "Molly is magnificent, as you would expect of someone who won the BAFTA for Leading Actress at such a young age. I really like her integrity and work ethic. She enjoys the arts and wants everything to be the best, most interesting and authentic it can be. I have loved working with her and we remain good friends."
What are your thoughts about the wider themes of Cheat?
KK: "You can't point to a time in history when there weren't cheats and liars. They just come in many different guises and some are more transparent than others. I do believe that good eventually wins in the end. It's often glacial, but I do believe that."
What was it like having Lorraine Ashbourne and Peter Firth as your screen mum and dad, Angela and Michael?
KK: "I met Lorraine on one of my first ever jobs out of drama school, when we were in Othello together and she's been a mentor to me for 20 years really. We talked so much that Peter Firth said at one point, 'Do you two ever come up for air?' And I had just worked with Peter Firth in Budapest, we were baddies in Strike Back and he tried to kill me!"
Leah rides a bike in this series, are you a keen cyclist?
KK: "I'm an '80s kid so I spent most of my time on my BMX. I've got two brothers very close in age and we lived out in the country. Most of my childhood was spent Steven Spielberg ET style with our coats strapped around our necks like capes, bombing up and down the road on our bikes!"
Did you ever consider a life outside of acting?
KK: "I never had a back-up plan instead of acting. I'm one of four kids from a family of freelancers. None of us have a boss and we all work for ourselves. So I think there's a rebel running through the Kelly genes. For all the reasons people don't enjoy being freelance and not knowing where the next job is coming from, I actually like that. I enjoy that freedom and I dread dull certainty.
What sort of student were you at school?
KK: "My report always said, "If Katherine didn't talk too much…" I was a bit of a chatterbox. But I just loved the craic at school and I'm still firm friends with lots of people I went to school with. I just dropped in with a bunch of good people and thought school was like a social event, which probably annoyed the teachers. Sadly I know this isn't usually the case and many people have traumatic time at high school, which can easily happen. I just got lucky I think."
Did you ever cheat at school?
KK: "Well I can't think of a specific time, but I'm sure some of my coursework might have been a bit of a collaborative effort with my friends. But I didn't cheat in an exam or anything, I didn't quite have the nerve for that!"
Cheat begins on Monday at 9pm on ITV and continues throughout the week.
Sean has been writing about all things telly for over 10 years and in that time he's been lucky enough to interview stars like Ian McKellen, Tom Hardy and Kate Winslet. His favourite shows are The Great British Bake-Off, People Just Do Nothing and Succession and in his spare time he enjoys drinking tea, doing crosswords and watching football.
Get the latest updates, reviews and unmissable series to watch and more!
Thank you for signing up to Whattowatch. You will receive a verification email shortly.
There was a problem. Please refresh the page and try again.