10 Years Ago in the Soaps including Coronation Street: Week Beginning July 21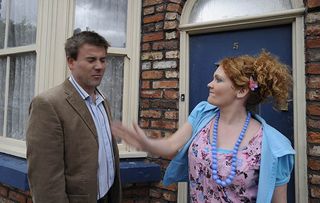 10 Years Ago in the Soaps - Remind yourself of all the soap drama in Coronation Street, EastEnders, Emmerdale and Hollyoaks 10 years ago this week!
John Stape returned to Coronation Street and a slap from Fiz Brown, the Branning brothers were at war over Tanya and a box of vinyl records in EastEnders, Katie Sugden gave birth to her baby in Emmerdale, and hunky Calvin Valentine was in a very bad mood in Hollyoaks - 10 years ago in the soaps…
10 Years Ago in the Soaps - Coronation Street
Fiz Brown (Jennie McAlpine) was horrified to see her ex John Stape (Graeme Hawley) back on the Street and gave him a slap when he told her he loved her and wasn't giving up. Teen temptress Rosie Webster (Helen Flanagan) - who'd had a secret affair with John - sidled over and said she knew it was her he had really come back for. But John, after checking no one was looking, was quietly menacing as he warned her not to wind him up. She'd wrecked his life once and if she tried again, he would make her pay. She had been warned!
Tyrone Dobbs (Alan Halsall) was struggling to find the right way to propose to Molly Compton (Vicky Binns) and let Aunty Pam talk him into a bonkers plan involving talking Faberge egg copies. The plan went adrift when Kirk Sutherland sabotaged the proposal wording, but Molly realised what was going on and came up with her own plan. The scene was set with a candle-decked table outside the pub, the eggs were brought back into use - this time with the perfect wording - and everyone cheered as Tyrone slipped the ring on Molly's finger. Ah!
10 Years Ago in the Soaps - EastEnders
Tanya Branning (Jo Joyner) was still caught between warring brothers Jack(Scott Maslen) and Max Branning (Jake Wood) who were fighting over her - and the Branning vinyl collection! Max couldn't stand seeing Jack and Tanya happy together, especially as his son Bradley had chucked him out and he had nowhere to go. So when he saw Jack with a box of old records from the flat, planning to give them to Tanya for daughter Lauren, he was furious and let rip. It didn't take much to set Max off!
You could always rely on Bradley Branning (Charlie Clements) for a shoulder to cry on and Clare Bates (Gemma Bissix) made good use of it. Bradley found Clare sobbing at the playground and she confided she'd been waiting for her adoptive dad Nigel to turn up, but he hadn't showed. Bradley did his best to cheer Clare up but that was before he found her little black book with his name circled with £ signs. Was she taking him for a mug?!
10 Years Ago in the Soaps - Emmerdale
Katie Sugden (Sammy Winward) had arranged to have her baby secretly by caesarean but it didn't quite go to plan. She was in a car with Matthew King (Matt Healy) and Perdy Hyde-Sinclair (Georgia Slowe) when she was overcome by pain and realised she was in labour. There was no time to get to hospital so Matthew was forced to pull over and Perdy helped Katie to give birth to a baby boy just as the ambulance arrived.
It didn't take much to tempt the Dingles to party and the opportunity to splash around in a hot tub was the perfect excuse. Eli, Gennie, Shadrack and Marlon made the most of it when Eli managed to get a free hot tub trial after Gennie (Sian Reese-Williams) borrowed the £500 deposit from her adoptive mum Brenda Walker (Lesley Dunlop), claiming she needed it for work. Brenda was furious when she found out and accused the Dingles of corrupting her precious girl.
10 Years Ago in the Soaps - Hollyoaks
Calvin Valentine (Ricky Whittle) got home from holiday to find his sister Sasha had gone missing and nobody had bothered to contact him to tell him. He headed off to the police station to see if he could pull any strings with his colleagues and was frustrated to be told there was little they could do. When he got back it was to find Leo Valentine (Brian Bovell) drunk and, blinded with anger at Leo's seeming apathy to his daughter's disappearance, Calvin showed him the door. Leo wasn't happy.
The McQueen family were in the middle of a naming ceremony for baby Max when Russ Owen (Stuart Manning) turned up with divorce papers for Mercedes (Jennifer Metcalfe) after finding out she'd cheated on him with Warren Fox. Little did Russ know that the party he'd interrupted was for his own son and that Max's mum Tina Reilly was pondering revealing that he was the baby's dad. But she kept that secret for a while longer…
Thank you for signing up to Whattowatch. You will receive a verification email shortly.
There was a problem. Please refresh the page and try again.