Coronation Street cast 'worried' as new boss set to implement HUGE shake-up following Kate Oates departure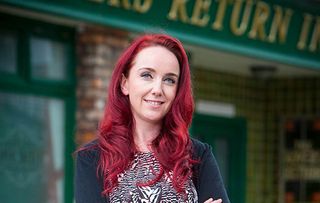 (Image credit: Joseph Scanlon)
Iain MacLeod will move to Weatherfield from Emmerdale in June.
The cast of Coronation Street are said to be 'worried' about their future on the cobbles following the shock departure of show boss Kate Oates.
According to reports, new man in charge, Iain MacLeod looks set to make some big changes to the current format, which has been recently slammed for its dark storylines, when he takes over at the helm in June.
'Kate was particularly popular with the younger stars,' an insider told The Sun. 'Her departure has left people worried the new producer will want to end the violent stuff and start again. And lots are worried about a cull.'
Recent Corrie plots during Kate's time in charge have included David Platt's rape storyline – which has received much backlash from fans – and controversy over a scene in which vicar Billy Mayhew took heroin in a church.
Now with reports claiming Iain wants to inject more humour into the show, younger cast members fear a huge change.
'Iain intends to bring back a bit of Corrie's light-hearted past while still delivering big stories. There's been a feeling that some of the younger cast members just sleep-walk through their lines and act on social media that they are huge stars,' the insider added.
However, according to an ITV spokesperson Iain has yet to have any discussions about the show or a cast shake-up and 'he won't be doing so until he joins Coronation Street in June.'
News of Kate's departure was announced on Tuesday, with Corrie and Emmerdale's creative director John Whinston saying: 'Kate Oates has transformed Coronation Street during her tenure.
'This has been reflected both in the huge critical acclaim the show has been getting and in the ratings.
'We are now used to opening the overnights and seeing Coronation Street has delivered its highest ratings for many years, a Herculean achievement in this box set era.'
He added: 'Kate has done this whilst putting on screen some groundbreaking and socially important stories such as the Bethany grooming story and David's rape story.
'It is a testament to her brilliant editorial touch that these stories, though difficult, have been both credible and engaging.
'Meanwhile, Kate has unleashed on us one of the finest villains in soap history with Pat Phelan and his dastardly deeds.'
He said the show continued to provide the 'top-notch Corrie humour' it has been famous for and praised Kate – who began her role in April 2016 – for taking the show from five episodes to six episodes a week.
Jenni McKnight is a beauty, lifestyle and entertainment journalist, currently US Lifestyle Editor for HELLO! Online. She has also written for HELLO! Magazine, GoodTo, CelebsNow, Daily Mirror and Yahoo! Her first big break came when she interned on the Guilty Pleasures showbiz desk at Metro newspaper. She has since worked on the online lifestyle team at Woman & Home and Woman and was Senior Content Editor at CelebsNow.
Thank you for signing up to Whattowatch. You will receive a verification email shortly.
There was a problem. Please refresh the page and try again.