Is there a future for Coronation Street's Daniel and Bethany? Actor Rob Mallard reveals all…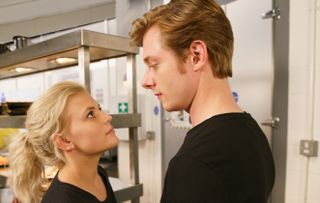 Bethany and Daniel have been growing close…
Coronation Street has been teasing a possible romance between Bethany Platt and Daniel Osbourne over the last few weeks – despite the fact Daniel is married to Sinead Tinker.
But will the co-workers cross the line? Or is Daniel just protective over his friend? Rob Mallard, who plays the character, has spoken out on the possible storyline, admitting his protectiveness over Bethany is merely a "distraction" from the possibility his wife's cancer could return.
MORE: Coronation Street star Jennie McAlpine's game-tastic NEW role!
He said: "It's a distraction for Daniel. Everything else exists on a knife-edge. Also, Daniel isn't very good at self-care, so what he does instead is cares for others.
"He's like a feeder. Even if he was starving, he'd be feeding other people and that's his form of escapism. You can't blame him for wanting to escape at times."
He continued to Digital Spy: "Daniel has been white-knighting on behalf of Bethany when she discovers that her article has been cut. For some reason, Bethany is almost annoyed by him helping her, which could be an indicator that emotionally she's heavily invested in him.
"I think a lot of his help is guilt, and that by him doing good, he feels that increases his chances of his situation improving, which is quite desperate but quite understandable.
"Bethany is a damaged person and has been used a lot, so she gravitates towards his kind actions which leaves her vulnerable to misinterpreting his kindness."
Asked whether Daniel could become emotionally connected to someone else other than Sinead, Rob replied: "I don't know, but I think Daniel believes in soul mates, which made the threat of losing Sinead even more painful.
Coronation Street airs on Mondays, Wednesdays and Fridays at 7.30pm and 8.30pm on ITV.
Jenni McKnight is a beauty, lifestyle and entertainment journalist, currently US Lifestyle Editor for HELLO! Online. She has also written for HELLO! Magazine, GoodTo, CelebsNow, Daily Mirror and Yahoo! Her first big break came when she interned on the Guilty Pleasures showbiz desk at Metro newspaper. She has since worked on the online lifestyle team at Woman & Home and Woman and was Senior Content Editor at CelebsNow.
Get the latest updates, reviews and unmissable series to watch and more!
Thank you for signing up to Whattowatch. You will receive a verification email shortly.
There was a problem. Please refresh the page and try again.