Coronation Street factory roof collapse: the prime SUSPECTS and their motives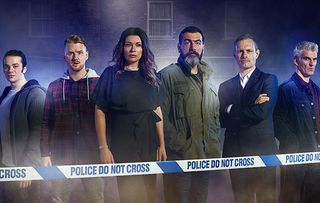 Which Coronation Street suspect is guilty, and who are red herrings?
It's whodunit time again in soapland when the roof of Underworld collapses in Coronation Street, leading to the death of a much-loved resident.
Initially appearing to be a tragic accident, it will later become clear that the roof was deliberately tampered with – but who would do such a thing?
Here, we present the six suspects in the frame, and their motives…
CARLA
The businesswoman recently ignored Gary's advice to replace Underworld's damaged roof, and opted for a cheaper repair, instead. Was that because she had decided to destroy the factory for an insurance scam, and knew that a complete overhaul would be wasted cash?
Forcing the place to be closed down would certainly make her plan to outsource production easier to implement. And the fact that she uncharacteristically shut up shop on the day in question fuels speculation that this was her doing.
Says actress Alison King: "Closing the factory does look as though she was aware of how bad the roof was...but has she gone so far as getting someone to sabotage it?"
NICK
Gail's eldest recently opened a barber's with David, but amidst the brothers' on-going dispute about a stuffed weasel, another problem rears its head – Natalie.
The former waitress, who helped Nick rob £80k from Audrey, wants cash to keep quiet, prompting Nick to admit to his brother that, with his money tied up in the factory, he'd be better off if it burnt down.
Will this lead to an attempted insurance scam?
Says actor Ben Price: "Nick's bizarrely moral in terms of people and danger, but not at all in terms of money. If he thought there was no one in the factory - which is meant to be the case on the day of the roof collapse - then he could be capable of intentionally damaging it."
ROBERT
Carla's relationship with Robert has long been a fractious one, and the chef blames his former fling for his break-up with Michelle.
"He decides that Carla has messed up his world, and that he's going to mess up hers," says actor Tristan Gemmill.
That Robert is awol on the day of the collapse looks very fishy, and when he returns, he'll be noticeably cagey.
Adds Tristan: "He claims to know nothing of the roof collapse, and in the episodes that follow, he's very evasive about something. That's when you start to think - is he capable of something dark, or has he got a different secret altogether?"
SEB
The troubled teen has been given the sack more times than a postman courtesy of Gary Windass – the latest time being after Seb made a clumsy pass at Gary's girlfriend, Sarah.
The sight of Gary flashing his cash then fuels Seb's anger further, and he vows to wipe the smug grin of his neighbour's face.
Will this lead to him tampering with the Underworld roof, and framing Gary for manslaughter?
Says actor Harry Visinoni: "Gary's walking around thinking he's all that. He's got his business, his crew, and Seb's got nothing. Seb wants to take Gary down a peg or two, and making him look like a dodgy builder would do the trick."
Seb's another resident who is absent when the roof gives way. Is this a sign of his guilt?
PETER
Carla may be the love of Peter's life, but he was humiliated when she rejected him at the factory recently, and his efforts to defend her against her irate machinists backfired when she publicly blamed him for her woes by saddling her with Nick as a partner.
Deciding there's nothing left for him in Weatherfield, he decides to buy a new boat and go sailing – but will he leave her a farewell present?
"This could be him lashing out against the factory; the one thing that has always come between them?" suggests actor Chris Gascoyne.
"Or maybe he has sabotaged the roof to help her. Peter knew she was close to going bust, so perhaps thought that if the roof problems got worse, she could claim on the insurance…."
GARY
When Carla ignored Gary's wishes to replace the damaged roof, he reluctantly followed her request to do a short-term repair instead, despite fearing that safety could be compromised.
"In his mind, any work was better than none," says Mikey North, who plays the cash-strapped builder, "and he didn't want to push Carla too hard in case she told him to leave it completely, because then he wouldn't have got to repair the fire damage."
Is Gary's patch job to blame for someone losing their life?
Coronation Street airs on Mondays, Wednesdays and Fridays at 7.30pm and 8.30pm on ITV.
Picture credits: Main image: ITV. Peter Barlow: ITV/REX/Shutterstock. All others ITV.
Alison Slade has over 20 years of experience as a TV journalist and has spent the vast majority of that time as Soap Editor of TV Times magazine.
She is passionate about the ability of soaps to change the world by presenting important, issue-based stories about real people in a relatable way.
There are few soap actors that she hasn't interviewed over the years, and her expertise in the genre means she has been called upon as a judge numerous times for The British Soap Awards and the BAFTA TV Awards.
When she is not writing about soaps, watching soaps, or interviewing people who are in soaps, she loves going to the theatre, taking a long walk or pottering about at home, obsessing over Farrow and Ball paint.
Get the latest updates, reviews and unmissable series to watch and more!
Thank you for signing up to Whattowatch. You will receive a verification email shortly.
There was a problem. Please refresh the page and try again.