Coronation Street fans spot something really, really disgusting!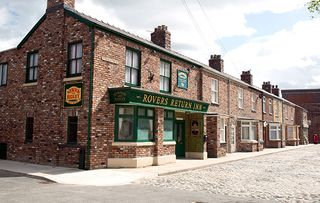 (Image credit: ITV/REX/Shutterstock)
Eagle-eyed Coronation Street fans have taken to social media this evening after spotting something horrible being served up in kebab shop Prima Doner. Hopefully the food is OK in The Rovers at least!
Coronation Street fans could be forgiven for thinking that the focus of tonight's episodes were on Sinead as she started her course of chemotherapy, or even the fact that Steve worked out that Tracy was the one responsible for sabotaging Michelle's car.
But instead, viewers took to Twitter to talk about something entirely different - the kebab meat being served up in Prima Doner to be exact!
Those Coronation Street fans watching closely enough would have seen that the meat on offer behind Chesney didn't look at all appetising, in fact, it looked more like it could give unsuspecting customers a serious case of food poisoning!
And viewers didn't hold back as they pointed out the disgusting food on social media...
"Blimey, Look at that meat!," wrote one, while another observed of the meat: "The Donner meat in the kebab shop in Corrie looks absolutely minging."
And that's not the first time someone has pointed out that Dev Alahan's eatery is serving up some suspicious-looking meat...
Thankfully in tonight's episode of Coronation Street Daniel was visiting the fast food restaurant for a shoulder to cry on.
After a tough day seeing his pregnant wife Sinead starting her treatment for cervical cancer, Daniel went to see Chesney to share his woes.
Sinead's cancer storyline is set to run well into the new year, with actress Katie McGlynn, who plays the mum-to-be even admitting she doesn't know what her character's fate will be.
The actress revealed on ITV daytime show Lorraine last week that Sinead's ordeal is set to get even more harrowing: "I don't know what happens to Sinead, I only know the storyline is going to go well into next year."
Coronation Street airs on Mondays, Wednesdays and Fridays at 7.30pm and 8.30pm on ITV.
Main Coronation Street pic: ITV/REX/Shutterstock
Get the latest updates, reviews and unmissable series to watch and more!
Thank you for signing up to Whattowatch. You will receive a verification email shortly.
There was a problem. Please refresh the page and try again.