Coronation Street fans sickened as 'evil' Kayla Clifton continues her disturbing revenge plot on Craig Tinker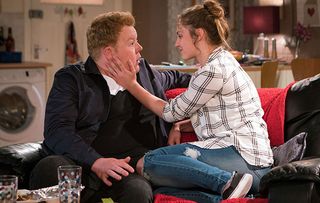 (Image credit: Shutterstock/Rex)
Corrie fans struggled to watch as Kayla put Craig's life at risk…
Coronation Street fans were left in shock during Friday night's double bill as Kayla Clifton continued her revenge plot on Craig Tinker.
The daughter of Bethany Platt's abuser, Neil Clifton, took her plan a step too far last night after putting Craig's life in danger.
Kayla blames Craig and Bethany for sending her dad to prison.
After stealing Craig's house keys while they were out for lunch, Kayla could be seen running up to his flat so she could turn the gas on his hob.
Leaving the flat to fill up, Kayla returned to an unsuspecting Craig, awaiting his return to the death trap she had left for him.
Viewers were not happy with Kayla's cruel treatment of Craig, with one tweeting: 'Kayla you nasty peice of work just like your father!'
Another said: 'Kayla ya evil cow poor Craig I feel sorry for him.'
A third added: 'What Kayla has done is straight up evil - poor Craig.'
Luckily Kate and Rana arrived home first and realised the gas had been left on, later confronting Craig about the incident, who assured them that he double checks everything before he leaves home due to his OCD.
After begging Kayla to reconfirm that he had made sure he switched everything off, evil Kayla claimed she hadn't been paying attention and didn't know if he had checked whether the gas was off or not.
This too left fans fuming, with one tweeting: 'I feel so sorry for Craig. This is a horrible thing for Kayla to do. Craig is so careful to check things, it will set him back, he is definitely vulnerable and needs help and support for his OCD, not this.'
Another said: 'As someone who struggles with obsessive compulsive disorder, seeing craig go through this i can relate to his pain. kayla is cruel'.
Coronation Street continues on Monday at 7:30pm on ITV.
Get the What to Watch Newsletter
The latest updates, reviews and unmissable series to watch and more!
Jenni McKnight is a beauty, lifestyle and entertainment journalist, currently US Lifestyle Editor for HELLO! Online. She has also written for HELLO! Magazine, GoodTo, CelebsNow, Daily Mirror and Yahoo! Her first big break came when she interned on the Guilty Pleasures showbiz desk at Metro newspaper. She has since worked on the online lifestyle team at Woman & Home and Woman and was Senior Content Editor at CelebsNow.