Coronation Street actress Lorna Laidlaw reveals there's plenty of 'heartbreak' in store for the Bailey family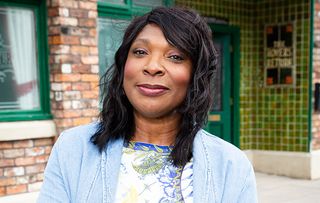 (Image credit: Joseph Scanlon)
Secrets don't stay buried forever…
Coronation Street actress Lorna Laidlaw has revealed that there's plenty of "heartbreak" in store for the Bailey family after Aggie discovers the real reason her family lost their home.
In the coming weeks, it's revealed that her husband Ed, played by Trevor Michael Georges, has fallen off the wagon and started gambling again.
Up until then, Aggie has believed that her son Michael, played by Ryan Russell, was the reason behind their money woes.
"Ed has got a gambling addiction. He's gambled before, and promised he'd never do it again," Lorna recently shared.
"That's why Michael took the responsibility on his shoulders and took the blame for Ed.
"It's a lovely thing for a son to do really, to take that massive thing, because he does not want his mum and dad to split up, which is so sweet. But Ed lost the house and it all gets revealed, really slowly."
She added: "A card gets declined then it starts to escalate. When it is all revealed, it's absolutely heartbreaking."
"When I read it, I thought kick him out! But then you read again and what me and Trevor have tried to do is set up how in love they are, and how much they love their kids. Once you've got that right, you can see why she would go back to him," Lorna explained.
She added: "It's a very traumatic thing. Your whole existence being taken away because of one person's actions. It's a massive thing for a family to go through as well."
Coronation Street airs Mondays, Wednesdays and Fridays at 7.30pm and 8.30pm on ITV.
Jenni McKnight is a beauty, lifestyle and entertainment journalist, currently US Lifestyle Editor for HELLO! Online. She has also written for HELLO! Magazine, GoodTo, CelebsNow, Daily Mirror and Yahoo! Her first big break came when she interned on the Guilty Pleasures showbiz desk at Metro newspaper. She has since worked on the online lifestyle team at Woman & Home and Woman and was Senior Content Editor at CelebsNow.
Thank you for signing up to Whattowatch. You will receive a verification email shortly.
There was a problem. Please refresh the page and try again.