Coronation Street star Dolly-Rose Campbell: Gemma Winter is going to glam up!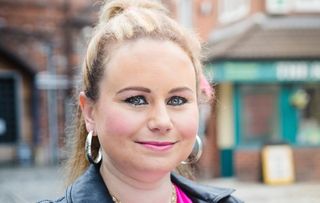 (Image credit: Joseph Scanlon)
As Gemma Winter becomes the 63rd barmaid at The Rovers, Dolly-Rose Campbell reveals Gemma will be changing her look
Gemma Winter is left crying into her voddie next week in Coronation Street when her dream to become the new landlady of The Rovers Return bites the dust, and the pub is snapped up by Jenny and Johnny Connor.
But it's not all bad news, because Jenny takes pity on the loveable loudmouth and offers her a job behind the bar – which Gemma duly accepts.
It's an exciting move for the fictional kebab seller and also for actress Dolly-Rose Campbell, who was brought in for a guest role back in 2014 as drug dealer Callum Logan's lackey, and never thought she'd one day be serving Newton and Ridley's finest.
We caught up with Coronation Street star Dolly-Rose Campbell to chat about the exciting new adventure for Gemma Winter…
You were brought in for a short guest role in 2014 – and now you're behind the Rovers' bar. How does that feel?
"It's great. It's been quite a journey over the last four years; I never thought I'd be in the show this long, and definitely never thought that I'd be behind the bar, so it's a massive privilege. It was quite nerve wracking the first time I was on the other side of the bar, I did have a moment where I had to take a minute, because I couldn't believe this was actually what I was doing in my life."
Rovers' barmaids are renowned for being glamorous – will Gemma's outfits change at all?
"We are going to see more glamour and slightly extravagant hairstyles; we might get a few extra bows and extra sparkles. Gemma already has a strong look so it will be a continuation of that. I've got some gold platform trainers; they're going to be a staple for Gemma, moving forward."
How long have you known about this for?
"I found out a few months ago, but I didn't know how it was going to happen or how long it was going to be for. A few people told me on the same day so it was obviously the day that everybody found out. They couldn't wait to tell me, so it was really nice."
Did you tell your friends and family?
"No, I think if your friends and family watch the show and you tell them what's going to happen, it spoils it for them, so I like to keep it as a surprise. I told my sister, though."
How does Gemma feel about it? She wanted the top job, afterall…
"For Gemma it's a dream come true. She did want the top job, but she's only young and she's got a lot to learn before she's qualified for that."
Do you think she's a natural barmaid?
"It goes pretty disastrously in the beginning but then she picks it up and has a bit of business sense about her. When it's all up and running, she has got a nack for it. I think if it gets rowdy, she will be firm and she will be quite good at sorting quarrels out, but I also think she'll be a fun and upbeat presence in the bar."
She has become renowned for constantly eating – will that continue?
"I don't think it will go; that's there to stay. There'll be a lot of snacks available to her at The Rovers."
Have you worked in a bar for real?
"I have; it was before Corrie when I worked in radio. I did hospitality and bar work."
Coronation Street continues on ITV.
Get the latest updates, reviews and unmissable series to watch and more!
Thank you for signing up to Whattowatch. You will receive a verification email shortly.
There was a problem. Please refresh the page and try again.