Coronation Street's Kym Marsh - AKA Michelle Connor: 'Filming the car crash was like being in a movie!'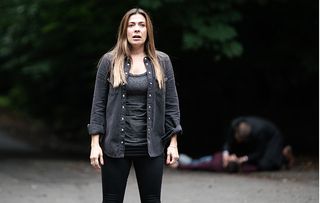 Kym confesses that shooting the huge stunt that leaves Ryan Connor fighting for his life was 'stressful'
After Cormac suddenly died after taking drugs on a night out with Ryan, the Connors' lives have been turned upside down as Cormac's dad, Ronan vows revenge for his son's untimely death. With dangerous Ronan after Ryan for not calling an ambulance when he should, Michelle Connor (Kym Marsh) is forced to realise all of their lives are now in danger and she tries to escape Weatherfield with her boys.
But when Ronan catches up with them, a high-speed car chase ensues…
We caught up with Coronation Street star Kym Marsh, aka Michelle Connor, to find out all the behind-the-scenes gossip from the on-location filming of the stunt…
"I've been on Corrie for nearly 13 years and I'm still being tested and being given new and exiting things to do, which is great," smiles the actress. "After filming this car chase I feel like a stunt driver!"
But while fans are going to be on the edge of their seats as they watch the dramatic scenes unfold next week, filming something so daring isn't always as glamorous as it sounds! "We were on set for quite a few days which made it feel like we were filming a film rather than a soap. We had a stunt team on site too, which was amazing.
[Check out the latest Coronation Street spoilers]
"They were long days though," confesses Kym. "We were outdoors all day and it kept raining on us, so it was exhausting. Also for me my throat was so sore by the end of it because I had to scream and cry in every shot!
"Filming the car chase was exciting though. I had to really make sure what I was doing inside the car matched what the stunt people had filmed during the car chase. It was a bit like patting my head and rubbing my stomach at the same time. I found it very stressful but that lent itself to the scene because I was supposed to be stressed anyway!"
But when Ronan catches up with the family after their car breaks down, it's Ryan who finds himself out of the car, in the middle of the road, with Ronan driving his car straight for him.
Kym was remaining tight-lipped about what Ryan's fate might be, but she did confess that she's enjoying seeing her character's maternal side coming out…
"We all know how fiercely loyal she is to her family, and she has gone into protect mode. I totally get that because I would do anything for my children, you would put yourself in danger for your kids, that is totally believable.
"I love working with James (Burrows, Ali Neeson) and Ryan (Prescott, Ryan Connor), they both call me mum!
"I love the dynamic, I love how different the characters are from each other, and how they bicker. I'm really excited about working more with the boys, there's so much exciting stuff to come from the pair of them."
Coronation Street continues on ITV.
Get the latest updates, reviews and unmissable series to watch and more!
Thank you for signing up to Whattowatch. You will receive a verification email shortly.
There was a problem. Please refresh the page and try again.