Former Corrie star Keith Duffy is all about 'Boyzlife' with Brian McFadden now!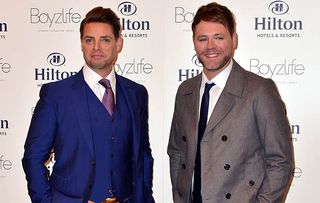 (Image credit: Nils Jorgensen/REX/Shutterstock)
Soaplife spoke to former Boyzone star Keith Duffy, to find out what he's been up to since he left Corrie
Former Corrie hunk Keith Duffy tells Soaplife about his hit stage show, Boyzlife!
So, how did Boyzlife come about? "It all started when I was asked to write an autobiography and I quickly realised I preferred telling stories to writing them down, But I was worried I might get a bit bored and lonely doing an autobiographical theatre show on my own."
So what did you do? "I went to see my old mate, Brian McFadden, performing at Wheelens, a Dublin venue, and he just blew the roof off. We went for a few pints after the show – as you do in Ireland – and I told him about the show I was putting together. I then asked him if he was interested in joining forces with me on a show where we'd talk about Boyzone, the band I was in, and Westlife, the band Brian was in. We'd also talk about our childhoods, personal lives, marriages, break-ups, problems, love and loss, all interspersed with songs from both bands."
It sounds great! "We seem to have got it right because we sold out in six hours! We've just finished touring Ireland and some of the UK, and it went down really, really well, so we're doing some more dates next year. In the meantime, though, there's the DVD."
What's on that? "It's a fly-the-wall documentary about us getting Boyzlife off the ground. Basically we had a camera filming us as we thrashed it all out - the highs and lows, the ideas we bandied about, the creative meetings, the arguments, the fights… We filmed everything."
Even why you're called Boyzlife rather than Westzone? "[Laughs] Yeah. We did think about it, but West Zone is actually the name of a parking area at Dublin Airport. Boyzlife is much better!"
How do your Boyzone band mates feel about Boyzlife? "They're very supportive. We'll always be great friends. They're like brothers to me. We're already in discussion about an album for our 25th anniversary in 2018 and going out on tour. I'm looking forward to going back on stage with them."
How do you look back on your Corrie days, playing charmer Ciaran? "Corrie is something that's never left me. Everywhere I go, I still get people coming up and talking to me about Coronation Street. It was a huge part of my life. I was there for 10 years on and off, from 2002 to 2012. I loved the people, loved the character of Ciaran McCarthy and I'd like to think that, one day, he'll be back on the cobbles, causing troube."
* For more information about the Boyzlife 2017 dates and DVD, go to www.boyzlifetour.com
Get the latest updates, reviews and unmissable series to watch and more!
Thank you for signing up to Whattowatch. You will receive a verification email shortly.
There was a problem. Please refresh the page and try again.