Corrie's Bruno Langley: 'When Todd's horrible on screen I over-compensate in real life'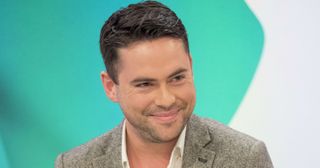 Coronation Street actor Bruno Langley speaks frankly about playing a villain and how he's learnt to keep his head down when he's in the public eye
Coronation Street actor Bruno Langley will be offering up his seat on buses and trains, avoiding heated debates like the plague and generally keeping a low profile in the next few weeks. Why? Because his alter ego Todd Grimshaw is about to turn bad...again.
After being dumped by vicar Billy for dobbing him into the Bishop, an angry Todd decides he has nothing to lose and tells Phelan that he wants in on the property racket he's running with Vinny. We spoke to Bruno about what it's like to play the bad boy.
Does playing a baddie on screen change how you are in real life? "Whenever Todd is horrible on screen, sometimes I over compensate in real-life. I go out of my way to be pleasant to people to prove that I am a nice, normal guy. I disapprove [of] a lot of the things that Todd does."
How do members of the public react when they see you out and about? "I've been called many things in the street and because I have drama and conflict as a job, I don't want it in my personal life. Before I got the job on Corrie, I would have arguments with people and I was a bit of a free spirit, but I can't be like that any more. When I am out in public, I am a lot quieter than usual because I don't want to cause a scene."
Do you think Todd's completely bad, or is he more complicated than that? "He's a bit messed up. He is torn. He doesn't know what people expect of him or who he is. What I love about Todd is that he is not just a bad guy. He has many layers. In real-life, people aren't just bad; they do things for a reason. My own opinion of what Todd does isn't important - my job is to find the reasons why he does these things.
Do you enjoy being an actor? "I consider myself lucky to be doing the job I do. I watched this documentary recently about Ancient Rome and back then, the lowest people in society were actors and prostitutes. At least I live in a time where acting is sort of respected. Coronation Street was my first proper job and leaving it enabled me to appreciate it. I would never want to have anyone say that I was getting too big for my boots. That won't ever happen"
You're currently taking a month off from Corrie in France. Are you enjoying the time off? "Time away is always a good thing. It means I can go back with more energy. I also wanted some normality and anonymity, but the first person I saw here in France said 'Bonsoir – aren't you Todd from Corrie?'"
Do you still keep in contact with Ryan? (actor Ryan Thomas played Todd's brother Jason in Corrie) "I speak to Ryan all the time. I am going to see him later this week. We are going to Ireland to have some fun. He calls me whenever he's in Manchester and we get together with the kids. I miss working with him, but I haven't really had a chance to miss him. We've been here, there and everywhere together in all sorts of states. We know so much about each other".
Danny Brocklebank (Bruno's co-star who plays Todd's ex boyfriend Billy) recently appeared on the C4 show Celebrity First Dates. Would you ever go on a show like it? "I am a single dad, but I'd never go on a show like that. One of my biggest nightmares would be to wake up in the Big Brother house. I knew Danny would come across well on First Dates because he likes people. I would hate to be under such close scrutiny. It's just not my thing."
Earlier this year you released an EP and wrote some music for a collection of children's poetry... how did that come about? "I had some songs lying around that were half finished and I thought it would be shame if they stayed on my computer and nobody heard them. The poems will be released near Christmas. I have narrated some of them. I enjoy doing little projects that keep my creative juices flowing. I think they will go down well. They passed the [son] Freddie test. I try everything out on him. He would tell me if he thought they were rubbish as he always says it as it is."
How are you feeling about returning to Corrie? "I assume I will have lots of scenes coming up with him, although I haven't looked at my scripts yet. It is going to be a busy time and I will have to fit everything else in around it. I do always make sure I put the time in as a dad too. Kids don't appreciate that when they are little, but I am sure Freddie will when he's older – that's if he forgives me for the time I told him that I would go to the school disco and dance in the middle of the floor. I was only joking, but he was horrified!"
Get the latest updates, reviews and unmissable series to watch and more!
Thank you for signing up to Whattowatch. You will receive a verification email shortly.
There was a problem. Please refresh the page and try again.