Corrie's Rob Mallard: I feared I was getting the axe!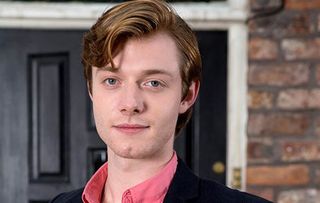 Rob Mallard, who plays Coronation Street's Daniel Osbourne, feared unemployment was looming after learning his character would attack Street stalwart, Ken Barlow
It's been an eventful seven months for Rob Mallard. Since joining Corrie in November as student Daniel Osbourne, he's been at the centre of the 'Who pushed Ken?' storyline, picked up the British Soap Award for Best Newcomer and even found love - with fellow Street star Daniel Brocklebank, who plays Billy the Vicar. The actor took time out to tell us about his Corrie journey so far, what's next for Daniel and how his childhood ambition was to become an Egyptian...
At what point did you find out that it was Daniel who would almost kill Ken - and what was your reaction? "I was called into a meeting with our producer, Kate Oates, about two months before we started filming the storyline, and she said which direction they were going to go in. I thought that the narrative worked and it was a good choice; I was just worried on a personal level because Corrie has got such a moral element to it that any character that attempted to do that would ultimately have a very short shelf life. But she said 'Don't worry!' I think she saw a look of panic go across my face!"
Did you feel a pressure to have that storyline so soon after joining the show? "Yeah, there were nerves because of how big the storyline was going to be and the characters that were involved. But I didn't think the whole story rested on me; I thought that all the Barlows had equal weight and it felt like a collective. I was still nervous to do my bit though, but just really pleased to be given the opportunity, because it's sink or swim, isn't it?"
Was it hard keeping the secret? Were people constantly badgering you about it? "People were badgering me, yes. When I was out and about, if anyone asked for a selfie, they'd always then say: 'Did you do it; did you push Ken?' But it wasn't hard for me to keep it a secret, because I didn't want to ruin the effect of the storyline. So there were never really any points where I thought 'I really want to tell you this and I'm not going to have that other drink in case I do.'"
Actors often justify their behaviour. Can you confidently say that Daniel is not a bad'un? "He's not a bad 'un, no. When the character first came back, because he'd been on his own since he was 15, he was sort of stuck in his development as it were. So all those things burst out the moment that Ken started interfering in his life. Because he's fiercely independent, he saw it not as someone helping him, but as an attack - of someone trying to takeover and sabotage his life. He's committed a crime, but I think he's still a moral person. When he walked out of his exam, that was a moral thing in that he couldn't be paid by Ken to go to Oxford when he'd done what he tried to do to him."
On-screen this week, viewers will see Daniel turn to drugs and overdose. Is that all down to his guilt over attacking Ken? "Yes. After everything that happens with Ken finding out, the Barlows finding out and his mum coming back, all those relations take a nosedive. I think when you're so depressed, you can't really feel anything, so I think that the drugs is just an attempt to feel something. But Daniel doesn't intend to take his own life – it's an accidental overdose."
How do you see Daniel rebuilding his life? Several members of the family have turned against him, Sinead has dumped him, and he'll soon discover that he hasn't got into Oxford University. "I think that Daniel had a certain goal for a long time, which was climbing through the ranks of education - and Oxford was the crowning jewel in that. Beyond that, he had no structure to anything. Now that that's gone, he's probably going to be quite low; he's going to be trying to work out what it is that he wants to do. It will mature him, I imagine, and give him a bit more humility, because he definitely had ideas that turned out to be above his station."
You've been in the show for nearly 8 months now. Has it been hard trying to get to grips with Daniel, given what a complex character he is? "The brilliant thing about being put in the Barlows was that because they're such strong characters and have such strong ways of behaving, it gives you no option but to find a way in on that. The struggle would be the amount of stuff the character has had to go through in such a short space of time. It has been quite intense; at least three solid months of nine / ten hour days. But it felt good to do that. It felt really satisfying to know you were going to produce something at the end of it."
You graduated from drama school a few years ago – but how did you get into drama originally? "I went to drama classes once a week in Oldham, from the age of 11 to 17. Initially, me and my sister both went to Taekwondo lessons but after about six weeks, I decided it wasn't what I wanted to do. My sister carried on, and my mum said 'I can't pay for your sister to do this and not have you do anything, because years later you'll tell me I never paid for you to do anything.' She suggested drama because she knew someone else who went to this class and it went from there. At school, I used to organise my friends into plays and put them on at the end of the week, and then I went to college and did a BTec in drama. I originally stayed on at school to do A Levels, but the revision for GCSE exams gave me such a fear of sitting an exam ever again that I left."
Did you always want to be an actor? "When I was little, I wanted to be an Egyptian. But then I realised I couldn't be an Egyptian, so I wanted to teach history."
Can you see yourself being in Corrie long-term? "I think the character's got definite potential for long-term use - it is up to the writers. There's lots of scope for him to go off and come back. I'm happy, as long as it's in keeping with what's been established. You don't want to run away and get tangled up in a storyline that you're not able to come back from."
What are your ambitions away from Corrie? "I wouldn't mind meeting Meryl Streep; she's always someone I've wanted to bump into. And I want to do some more stage work. I did Pygmalion last year at The Oldham Coliseum and because it had been nearly two years since I'd last done any stage work, there's a fear that sets in. I think the longer you are away from doing it, the scarier a live audience becomes and I don't want that to become too strong. But that's long term – for now, I'm very happy where I am."
Coronation Street, ITV, Mondays, Wednesday and Fridays
Get the What to Watch Newsletter
The latest updates, reviews and unmissable series to watch and more!
Alison Slade has over 20 years of experience as a TV journalist and has spent the vast majority of that time as Soap Editor of TV Times magazine.
She is passionate about the ability of soaps to change the world by presenting important, issue-based stories about real people in a relatable way.
There are few soap actors that she hasn't interviewed over the years, and her expertise in the genre means she has been called upon as a judge numerous times for The British Soap Awards and the BAFTA TV Awards.
When she is not writing about soaps, watching soaps, or interviewing people who are in soaps, she loves going to the theatre, taking a long walk or pottering about at home, obsessing over Farrow and Ball paint.