Dancing on Ice's Antony Cotton and Brooke Vincent: 'There's no rivalry between us whatsoever!'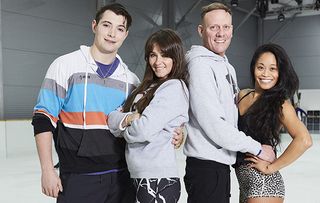 (Image credit: Matt Frost / ITV)
Taking part in Dancing on Ice is nerve-racking for any celeb. Fortunately, Corrie stars Antony Cotton and Brooke Vincent have got each other for support. We chatted to them in training...
Corrie pals Antony Cotton and Brooke Vincent on the rigours of training for Dancing on Ice…
Several soap stars have laced up their skates for Dancing on Ice in the past but, this year, Coronation Street fans have been given a treat as not one, but two members of its cast are braving the rink.
Antony Cotton and Brooke Vincent – aka Weatherfield's Sean Tully and Sophie Webster – are following in the toe-picks of co-stars Samia Longchambon (Maria) and Shayne Ward (Aidan) by swapping the cobbles for the ice.
TV Times caught up with Antony, 42, and Brooke, 25, during training…
How are you enjoying being on this year's Dancing on Ice?
Antony: "It's certainly been a learning curve and really hard work but it's probably one of the most enjoyable things I've ever trained for. We're so lucky in that we're being given the most amazing training from the best of the best in Brooke's partner Matej [Silecky] and my partner Brandee [Malto], so it's been a joy for us both. Brooke texted me when we first signed up and said: 'I think we may have underestimated this' because we realised how hard it was but, actually, we've both loved every minute of it."
Brandee puts Antony through his skating paces (Pic credit: Matt Frost / ITV)
How are you both managing to juggle Dancing on Ice with being on Corrie?
Antony: "It is a very intense schedule. I've been busy at work but Brooke's been REALLY busy…"
Brooke: "I've been getting up at 5am, doing 6-8am in training, then going to work on Corrie until 7pm. It's hard – it's freezing and often I feel I don't know what I'm doing – but I've realised you don't get any further for moaning! It's definitely been a challenge – but I figure if you're working hard and enjoying it, that's half the battle."
Have you had many falls or suffered any injuries in training?
Brooke: "I've got lots of bruises but that's because I was showing off in front of some 10-year-old girls. I was like: 'Look at me in my fancy boots' and the next thing I was on the floor. I totally decked it!" Antony: "I'm lucky in that I've not really fallen. I've pulled muscles in places that I never knew I had muscles, so I'm having a bit of physio, but I'm not frightened of falling. The ice doesn't frighten me." Brooke: "Well, it frightens me and I don't mind admitting I'm scared."
Brooke and Matej practise their routine... with Brooke hoping she won't have to spin! (Pic credit: Matt Frost / ITV)
How are you finding doing any lifts?
Antony: "This is where Brooke and I have a very different experience because obviously I'm the lifter and she's a liftee. Myself and Brandee are doing more tricks than lifts, which could possibly go wrong at any moment. But that's the exciting thing about this show."
https://youtu.be/1NXW9YmUmDo
VIDEO: Antony and Brandee performing to Wham's Club Tropicana on the first live show
Do you think either of you will try some of the more controversial moves, like the headbanger?
Brooke: "When you're sat at home you think: 'Oh, it's gonna be amazing doing the headbanger'. But I am really struggling with my dizziness – Matej only has to lift me up and turn me for a split second and my head goes. It takes me a good 10 seconds to focus and come round, so the headbanger for me is not only dangerous but it's going to make me VERY dizzy!"
Have you been given any advice or tips from your fellow Corrie co-stars like Samia Longchambon and Shayne Ward who've already done the show?
Antony: "Samia persuaded me to do it. I'd been asked to do the show a few times and every time I said: 'No, never in a million years!' When I got asked to do it this time round, I rang Samia and she was like: 'You've GOT to do it'. She told me it will be the best thing you've ever done and it will change your life – now I understand what she means." Brooke: "Hayley Tamaddon, who won the show in 2010, sent me a Tweet. She was amazing but we just want to do our best. I've only just noticed I don't have much coordination – I thought I was a great dancer on a Saturday night! So if one arm's supposed to be going up and the other is meant to be going down, and I can do that, I'm quite happy."
In her comfort zone... Brooke, as she's best know, for playing Sophie Webster in Corrie
After a hard week's training, do you feel ready to perform live on Sunday night?
Brooke: "Not ready at all. There's no time for being ready." Antony: "I'm not ready because I'm good at it, I'm ready because it's a television show and I just want to get the audience out. I like to get onto the ice and do the showing off bit!" Brooke: "Personally, I would rather be watching the show at home on the couch with a big box of Celebrations laughing at people falling over."
Antony, you've known show judge Jason Gardiner for many years. Do you think he''l go easy or be harder on you when giving his critique?
Antony: "I've known Jason for 20 years and we're great friends but I know he'll be tougher on me than anybody else. I know the real Jason and I know the television job he's got to do, so I say bring it on. He will be cruel to me, I know he will, and I am – rather sadistically – looking forward to him saying something spectacularly vile about me. But if he's gonna throw shade, I'll certainly throw some back!"
From soap star to skater... Antony is best known as Corrie's Sean Tully
Is it nice having each other on the show for support?
Antony: "I've been like a monkey on Brooke's back since she was a little girl. We're thrilled to have each other as we go through this competition. Within this unique experience, we have our own unique experience." Brooke: "Can you imagine how much I'd have to talk if he wasn't here?! Joking aside, it's nice to have a familiar face when things do get a bit on top of you, you're feeling a bit sad and you need picking up."
Larking around... there's always time for a joke between the Corrie friends (Pic credit: Matt Frost / ITV)
So no rivalry between you two then?
Antony: "There's absolutely no competition whatsoever. If me and Brooke find ourselves in a skate-off, I would be an idiot to want myself to do better than her. I'd say I would give up my place and you can continue. I think the deal is that my family will vote for Brooke and Brooke's family will vote for me. So no, there's no rivalry at all – it's beautiful that we're able to share this experience together."
Dancing on Ice continues on Sunday January 13 at 6pm on ITV.
Get the latest updates, reviews and unmissable series to watch and more!
Thank you for signing up to Whattowatch. You will receive a verification email shortly.
There was a problem. Please refresh the page and try again.