Danger for THIS Emmerdale favourite as their stalker hell continues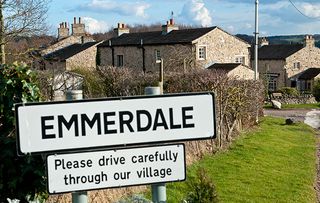 (Image credit: ITV)
There's a sinister twist heading for Emmerdale next week when Harriet Finch finds her house has been broken into...
Emmerdale is lining up another terrifying twist for Harriet Finch next week as she finds herself targeted once again following her vicious attack that happens this Friday, 5th April.
At the end of the week vicar Harriet will get caught up in a shock attack where she is hurt by a mysterious figure wearing a hoodie.
At first it seems that she might have just been in the wrong place at the wrong time, however a new twist next week hints that Harriet is definitely the person the attacker is targeting.
As she gives her statement to the police, Harriet is shocked when people seem to think Dawn might have something to do with her recent drama.
But as the village residents start pointing fingers, this soon becomes a new 'whodunit' for Emmerdale as everyone desperately tries to work out who could have it in for their vicar.
Next week sees things turn even more sinister when Harriet comes downstairs and is spooked to find someone has been in her house.
With the back door wide open and a picture frame smashed, Harriet is convinced someone has been creeping around her house while she was upstairs. But who?
Later the plot thickens when Harriet goes to the church with Laurel and they find someone has thrown red paint all over the pulpit.
Harriet is terrified that someone definitely seems to have it in for her... but who could wish a village vicar any harm?
With Harriet working for the police as a private investigator before she moved to Emmerdale, could this latest bout of attacks be connected to her past in some way?
Or is Dawn involved... even if it isn't directly her carrying out the attacks? Maybe someone has got it in for Dawn and is targeting Harriet to get to her?
Whoever it is carrying out the attacks, it seems the nightmare for Harriet is only just beginning.
Emmerdale airs weeknights at 7pm on ITV, with an extra episode at 8pm on Thursdays.
Get the latest updates, reviews and unmissable series to watch and more!
Thank you for signing up to Whattowatch. You will receive a verification email shortly.
There was a problem. Please refresh the page and try again.