Dark Heart star Tom Riley: 'My character goes rogue on a daily basis!'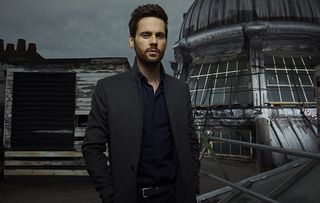 Tom Riley on unleashing his dangerous side as a bereaved cop in ITV's powerful thriller Dark Heart
There's many a troubled detective on our TV screens, but few have as much baggage as Dark Heart's DI Will 'Staffe' Wagstaffe, played by Tom Riley. The drama, which began as a pilot on ITV Encore in 2016, sees the London cop deal with a range of challenging cases, while also living under the shadow of the unsolved murder of his parents when he was a teenager.
Tom Riley tells TV Times about his high-octane crime thriller Dark Heart…
TV Times: What makes Dark Heart stand out from other detective dramas?
Tom Riley: "It feels bigger and more expansive this time. It's as much about this guy's personal journey as the cases. His parents' murder is a cold case but it's an ongoing mystery. Everything he does is based around the idea that maybe something will make sense of it."
TVT: How dark are his regular cases?
TR: "They are nasty and depraved and there's a real danger that manifests itself over the series. The monsters he's chasing begin to inform him as a person though. So his grip on morality is loose. He's plays within the parameters of the law but he's volatile and goes rogue on a daily basis."
TVT: What's his relationship like with his sister Juliette (Charlotte Riley)?
TR: "Because Charlotte and I are both called Riley, we joke that we were separated at birth! But Will and Juliette rub each other up the wrong way. He takes unasked-for steps to protect his family, which will probably damage them irreparably…"
TVT: Have you had to take part in any big stunts?
TR: "I've got a couple but they smartly put them in the last week of filming, so you wonder, 'Is someone going to get hurt in this?!' We had a fantastic stunt that I'm present at. It's the most tense I've felt on set, just the general fear in the room of, 'This could go horribly wrong'. It didn't but it's a good scene."
TVT: What do you get recognised most for?
TR: "It depends where I am in the world because outside this country, it's Da Vinci's Demons. Or if they're under 14, it's an episode of Doctor Who. But an episode of Lewis where I played an autistic art student is the one thing that I get asked about the most. I was staying in a house in LA and we needed to extend the lease and the landlord said, 'Were you in Inspector Lewis? My son is autistic and it meant a lot to us. You can stay for three extra weeks!'"
Dark Heart begins on Wednesday 31 October at 9:00pm on ITV
Get the latest updates, reviews and unmissable series to watch and more!
Thank you for signing up to Whattowatch. You will receive a verification email shortly.
There was a problem. Please refresh the page and try again.