Video: how David Jackson on The Voice gave everyone goosebumps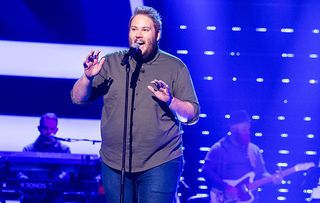 (Image credit: ITV)
Jennifer Hudson, Tom Jones and Gavin Rossdale all turned for Irish singer David Jackson. Will will.i.am regret not turning for him?
It's always a special moment when someone on a singing competition exceeds all expectations, and Belfast man David Jackson did just that on The Voice.
The 29-year-old delivered a powerful rendition of Kodaline's hit "All I Want", and the viewers at home were clearly touched by the performance.
David's mum watched proudly from the side of the stage with tears rolling down her face.
And she wasn't the only one showing her feelings after listening to the performance.
And with such a stunning performance, the judges had no choice but to turn around, with will.i.am the only one unmoved.
The emotion his voice carried wowed everyone.
In the end David chose Jennifer Hudson's team, following the advice of his mum, and Jennifer revealed she had been just as blown away as everyone else.
It clearly meant a lot to David, who had previously revealed that after getting into a bit of debt he'd had to move back in with his parents.
And despite the great singers over previous weeks and the rest of this week's show, some people reckon they've already spotted the winner.
https://youtu.be/Q8jNcegYvCw
The Voice continues on ITV, Saturday, January 28, 8.00pm
Thank you for signing up to Whattowatch. You will receive a verification email shortly.
There was a problem. Please refresh the page and try again.