Death in Paradise's Kris Marshall: 'Humphrey turns out to be quite a catch!'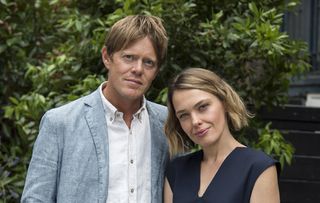 (Image credit: Steffan Hill)
As Death in Paradise returns for its sixth series, Kris Marshall reveals how things are finally looking up in the love stakes for detective Humphrey Goodman
Kris Marshall chats about how bumbling cop Humphrey Goodman finally gets lucky in love in the new series of BBC1's Caribbean crime comedy-drama Death in Paradise…
As Death in Paradise begins, it looks like Humphrey's love life is looking up when old friend Martha (Not Going Out's Sally Bretton) comes to visit him on Saint Marie. What's he like as a boyfriend? "I think you're going to see that actually he's a bit of a dark horse. He turns out to be an amazing boyfriend and quite a catch! You'll see the passion that he normally puts into his work, coming out in a relaxed and loving relationship. Although the path of true love never does run smoothly…"
Sounds intriguing… Why is that then? "Well, Martha's travelling the world at the moment and he's in Saint Matie. Long distances relationships are tricky, so let's just say it's complicated!"
Humphrey's madly in love with Martha... but will distance get in the way of their romance?
Does Humphrey take any relationship advice from friend and colleague Dwayne, played by Danny John-Jules? "No, I think we're done with advice from Dwayne! I don't think Humphrey takes advice any more per se, I think he just starts to follow his own path – though that's not necessarily the right path!"
Humphrey won't be taking relationship advice from well-meaning Dwayne
Now that Humphrey's in love, does that have any impact on his job as a detective? Is he distracted? "Not really, not to begin with at least. He's just really happy to be in this relationship and he does become less dyspraxic almost – you see another side to him that you wouldn't necessarily see when he's bumping into things and dropping stuff. There's a lot going on between Humphrey and Martha and I wanted people to see why she'd go for him; why it becomes such a passionate relationship."
You film two episodes of this series in London. What can you tell us about that particular investigation? "Well, the case starts on Saint Marie with the team investigating a murder, and attention turns to a group of bankers. When these bankers leave for London, Humphrey, Florence (Josephine Jobert) and Dwayne follow. It's more about the spirit of international investigations between London's enormous Metropolitan police and the tiny Saint Marie police."
One investigation this series brings Humphrey and Florence to London
Will the show be renamed 'Death in a Concrete Jungle' for those episodes then? "Ha, ha! We know that what people really want is the beach and all that sort of stuff. So although we're in London, Commissioner Patterson (Don Warrington) and JP (Tobi Bakare) will be holding the fort back in Saint Marie, which means there will be plenty of beach shots. So it will still be Death in Paradise and not just death in grimy London!"
Have you been having fun with the guest stars this series? Introducing them to the rum, perhaps? "I try to stay well clear of the rum these days, but I can always be tempted occasionally. What's really good this year is that we're using a lot more local stories, which I really like. Local stories with black British actors about the island and island life rather than a load of expats coming over on holiday and getting murdered.
"In the first episode, we have volcanologists that work on the island, then there's a literary festival with a local famous writer and there's a cricket episode, too."
Why do you think Death in Paradise has been a hit all over the world? "I think it's because of the tone of the show… it's a great way of suspending belief for an hour. It's a feelgood show and people want to feel good especially with what's happening in the world at the moment. I think it has a real charm and a freshness to it. There are many, many forthright dramas, especially with the invention of the Scandi Noir genre. But we're different. We're fun. We're Bergerac… with 10 degrees on top of it!"
Death in Paradise returns Thursday, January 5 at 9pm on BBC1
Get the latest updates, reviews and unmissable series to watch and more!
Thank you for signing up to Whattowatch. You will receive a verification email shortly.
There was a problem. Please refresh the page and try again.