Denise Black loved her first ever white wedding in Emmerdale!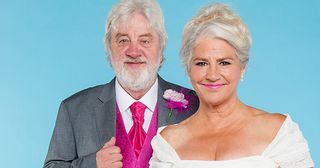 Denise Black talks to TV Times about Zak and Joanie's wedding and how Emmerdale made a new woman of her….
Denise Black is not a fan of white weddings – she married her husband Paul Sand in a daring black and diamante ensemble.
However, when Emmerdale bosses told her that she'd be dressed like a traditional bride for Joanie Wright's wedding to Zak Dingle, she was thrilled.
The nuptials are set to take place in the coming week, although the build-up to the big day is tense as Joanie's intended is having to deal with daughter Belle, who is slowly unravelling, and his ex-wife Lisa, who is clearly not coping well with the idea of Zak remarrying.
What was it like film the wedding scenes? "It is very exciting. I used to say that I couldn't stand white weddings, but it was my first big white TV wedding and I had the most brilliant day filming it. Joanie is clamped into that dress. It was so tight I couldn't sit down, but she looks gorgeous. Joanie really wants to be married to Zak, but she is also torn because she knows that Lisa is putting on a brave face and Belle is not happy about it.'
What happens when Zak accidentally calls Joanie 'Lisa'? "I can't tell you what is said, but there is this wonderful scene between Joanie and Lisa. Jane Cox and I were very excited when we first read the scripts. It is a strange thing to go and talk to your fiance's ex-wife on the day of your wedding, but that is where Joanie's head is. In that moment, she is not convinced that she is doing the right thing in marrying Zak."
Will Zak and Joanie tie the knot? "You'll have to wait and see. It's a soap wedding, so anything could happen. All weddings have a bit of a drama, don't they? I remember my sister's wedding when the dog ran out and got hit by a car. He only clipped his ear, but she was there in her dress and the dog came running in shaking blood off his head."
Do you enjoy working at Emmerdale? "I am so happy here. I have got a flat here and live near the river. There is such a good vibe at Emmerdale. I am normally a grumpy old cow and my husband who is a writer, couldn't understand why I was enjoying Emmerdale so much until he came on set. Then he got it. He loved it so much he said he would do anything to work there. It is heaven.
"I never get bored of working at the village. As you drive over the brow of the hill, you get a panorama of the Yorkshire Dales. It is so beautiful – even when it is cold and windy
"I love being in a soap, too. I think they are one of the most exciting things in television. I love this idea of a continuous story where the fans really invest in the characters."
Did you worry about how the fans would react to the romance? "Of course there was the expected 'Joanie is a cuckoo – get out' sort of thing, but people have generally been really nice about it.
"When Kate Oates our former producer came up with the idea, she hauled me into her office and explained that people think you are done past a certain age and she wanted to tell a story which shows that you are not and I really thank her for that.
"Steve Halliwell and I wondered how viewers would feel about a couple of our age being kissy-kissy and all that, so we have tried to make it as Hollywood as possible."
Has working at Emmerdale improved your health? "When I joined Emmerdale for the first time in 2013, I stayed in rooms opposite the studio and was carrying this little wheelie case up and down stairs. My back was hurting. My body was rubbish. I went to see this masseur in Brighton and said: 'You have got to fix me.'
"This person put me in touch with a woman called Jeannie Hignell. She helped me address my lifestyle. I was snacking all the time, I love wine and I never did any exercise.
"Somebody told me that I could never run, but now I can and it is so exciting. I am not saying that I am super fit or super thin, but it is as if I have got my body back. I have got my life back and it's amazing."
Get the latest updates, reviews and unmissable series to watch and more!
Thank you for signing up to Whattowatch. You will receive a verification email shortly.
There was a problem. Please refresh the page and try again.