Did All American's Olivia relapse while grieving Billy?
Olivia looks to her loved ones to help her stay sober.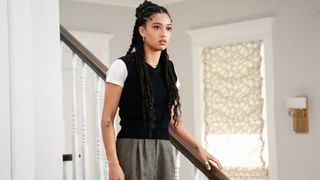 (Image credit: Troy Harvey/The CW)
After the shocking death of Billy Baker (Taye Diggs) and his subsequent funeral, All American fans have been closely monitoring how his family and friends are dealing with the grief of losing him. While Spencer (Daniel Ezra) has tried to power through his emotions by relying on football and Jordan (Michael Evans Behling) has tried to be a pillar of strength for his mom and sister, Olivia (Samantha Logan) has been deeply struggling.
In the episode titled "Lost One," which aired on February 20, Olivia wound up in her dad's office at Crenshaw High School where she located Billy's special bottle of alcohol. For longtime viewers, they found themselves concerned her discovery was a sign she would soon relapse and break her sobriety. Judging by the tweets, that was certainly not something the All American audience desired to see.
Ugh, those last few scenes of the episode got me crying pretty well (and PLEASE don't let Olivia lose her sobriety in her grief 😭). I have been looking for a show to really hit my heart since This Is Us ended and I never expected it to be #AllAmerican. *sobs* ❤️February 21, 2023
I'm honestly tired of Olivia's sobriety being used as a plot for the sake of a storyline. This is the third time y'all pulled these stunts. 100 steps back #AllAmerican pic.twitter.com/Z2iGf44j5HFebruary 21, 2023
Fast forward to the episode "Day Ones" that aired on March 13, and the opening moments are of Olivia in her bedroom, tearfully staring at her dad's bottle. Although she hadn't taken a drink yet, she wants to. Exerting willpower, she wakes up Jordan and Layla (Greta Onieogou) and asks them for help, which they gladly do.
The next morning, after making a few calls, the infamous Vortex, Olivia's mom and sponsor show up, vowing to prevent her from breaking the sobriety she worked so hard for over the last couple of years. Laura (Monet Mazur) and even Coop (Bre-Z) take turns sitting with Olivia to assist her in working through her desire to drink. When it comes time for Asher (Cody Christian) to monitor Olivia and take her to an AA meeting, he unfortunately gets caught up with Jaymee (Miya Horcher) as they prepare for his upcoming baby. In his absence, Spencer volunteers to take his place.
As it turns out, Spencer was the catalyst Olivia needed to discover why she felt so compelled to break her sobriety. Before going to her AA meeting, the two stop at a carnival where they play a few games and get on the Ferris wheel. While up at the top of the ride, Olivia closes her eyes and mentions feeling closer to her father than she ever has since his death.
She then realizes the reason why she's been wanting to drink is she can't deal with the silence and her thoughts. So going forward, Olivia is bringing back her podcast Liv the Truth as a way of therapy for herself and a helping hand for others who can relate.
So, thankfully, it looks like Olivia was able to stay sober despite the grief that she has been dealing with.
All American fans are thankful Olivia doesn't relapse
It looks like viewers appreciate All American writers for not making Olivia take a drink. They appreciate even more the fact Spencer was able to help her reach her breakthrough. Check out what fans have been saying on Twitter.
Olivia gets a side of Spencer NOBODY ELSE gets and that's why she needs to stay next to him #AllAmerican #Spelivia pic.twitter.com/kLtGUsohx2March 14, 2023
i'm so proud of Olivia for reaching out to her friends and love that they are being so supportive and helping her #AllAmericanMarch 14, 2023
Spencer and Olivia grieving together is breaking my heart🥹🥹 #AllAmericanCW #AllAmerican pic.twitter.com/o3kOcoZL5VMarch 14, 2023
Olivia acknowledging all of this, giving up all her hiding spots and saying she can't be left alone, she's grown so much#AllAmerican #AllAmericanCW pic.twitter.com/Jk5UzrAZ1WMarch 14, 2023
starting her podcast back up again and saying that if people don't have someone, she's there, is the most olivia baker thing ever. she will ALWAYS be the one there for people to reach out to. that's literally who she is and that's what makes her so amazing. #AllAmericanMarch 14, 2023
spencer and olivia have my whole heart#allamerican #spelivia pic.twitter.com/oEJgKqJ22gMarch 14, 2023
All American episodes air on Mondays on The CW and are available to stream on-demand on The CW app.
Get the What to Watch Newsletter
The latest updates, reviews and unmissable series to watch and more!
Terrell Smith has a diverse writing background having penned material for a wide array of clients including the federal government and Bravo television personalities. When he's not writing as Terrell, he's writing under his pseudonym Tavion Scott, creating scripts for his audio drama podcasts. Terrell is a huge fan of great storytelling when it comes to television and film. Some of his favorite shows include The Crown, WandaVision, Abbot Elementary and Godfather of Harlem. And a fun fact is he's completely dialed into the TLC 90 Day Fiancé universe.